Heads up! We just made some big improvements to Simplero, and a lot of the videos and screenshots here aren't updated yet.
Current Lesson
Course Content
Creating a Membership Site
Membership sites are built on the same platform as the Simplero sites, and thus offer a brand-consistent, modern and – dare I say – gorgeous look for your member sites, with the advanced page editor built right in as you're used to from your main site.
Membership sites feature not only a blog, but also a forum and member directory. Membership sites take on a structured approach to the member site, which makes a lot of exciting things possible. The big part of this is that member sites feature Courses with a structured curriculum and support for quizzes as part of the lesson plan.


Creating a Membership Site
Select Content from your Simplero Dashboard
In the Membership sites tab, click the + Create new membership site button in the upper right corner



Complete the fields for your site and click the Create site button to save



Once your site is created you will want to go back to the Configure tab and select the link to "Launch" the site. 
Connecting a Membership Site to a Product or a List
Select Sales from your Simplero Dashboard
In the Products tab, select the product you want to add to a membership site
Select the Content tab
In the Courses & Sites section, check the box next to the membership site that you want to grant access to via the product


Scroll down to the bottom of the page and click the Save changes button



Click here for access to our demo membership site.


Access Control of your Membership Site
You can set your membership site to be viewable in 3 ways.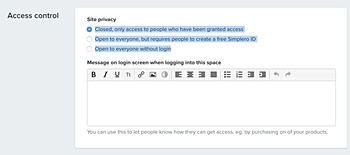 Closed, only access to people who have been granted access

This option requires that the membership site is connected to a product or list in the content tab.

Open to everyone, but requires people to log in with their Simplero ID

With this option, the user would need to be on your list or purchase that product from you to gain access and still require them to register with Simplero but not your list. 

Open to everyone without login

This options only require them to have the URL so you can share it publicly. 


Sign-up Forms
Using this section you are able to add a signup form as a page within your membership site. Simple select the add signup form button and you can choose any of the sign-up forms you have created within your Simplero. 



Custom Domain
Last updated 30 Aug 2020.