Image Sizes Across Simplero
You will find the recommended image size on almost every section where you can add an image in the Page Builder: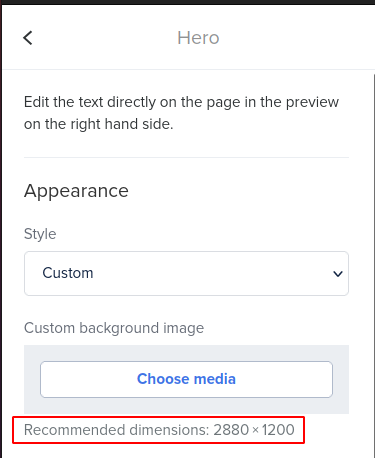 Below is a resource list of all the different standard image sizes across the Simplero admin settings. 
Sites/Membership site images
Found in your Sites and Membership sites pages
Site and Membership site card image 700 x 380 pixels
Hero image  2880 × 1200 pixels
Featured image on a site page 400 x 400 pixels
Logos on a site page 200 pixels wide

Site Section background image 2880 × 1200 pixels
Testimonial image 240 x 240 pixels
Found in the Course Settings
Course catalog image 700 × 380 pixels
Course and Lessons thumbnails to be compatible with Simplero App view: aspect ratio 16/9 with a minimum width of 800px. For example, 800x450 px.
Product Images
Found in the Configure screen of a Product under Summary
Product catalog image 700 × 380 pixels
General Account Images
Found in the Email templates under Communications
Email header image 600 pixels wide
Found in the Colors and graphics page under Settings
Account logo 1000 x 200 pixels
Account icon 150 x 150 pixels
Email logo: max. 200 x 200 pixels
Account header image (accounts with spaces only) 980 pixels wide and less than 400 pixels tall
Concerned about your site pages load speed?
Images size does definitely affect how fast your Site will load on any browser and internet connection. In Simplero, WebP format conversion is enabled by default to reduce image sizes without losing quality and massively improve the page load speed.
For content uploaded as a file in the theme's asset directory, they won't do an automatic conversion, but if you also upload a file with the same name but .webp, it'll choose correctly :) 
If for some reason you would like to disable the conversion for a specific file, you can do that from the image asset at right side-bar:

Last updated 18 Feb 2022.