Current Lesson
Course Content
Image Sizes Across Simplero
You will find the recommended image size on almost every section where you can add an image in the Page Builder: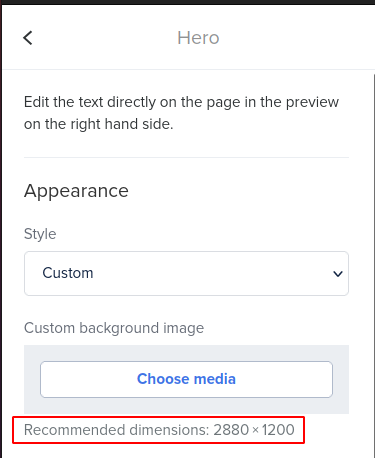 Below is a resource list of all the different standard image sizes across the Simplero admin settings. 
Sites/Membership site images
Found in your Sites and Membership sites pages
Site and Membership site card image 700 x 380 pixels
Hero image  2880 × 1200 pixels
Featured image on a site page 400 x 400 pixels
Logos on a site page 200 pixels wide

Site Section background image 2880 × 1200 pixels
Testimonial image 240 x 240 pixels
Found in the Course Settings
Course catalog image 700 × 380 pixels
Product Images
Found in the Configure screen of a Product under Summary
Product catalog image 700 × 380 pixels
General Account Images
Found in the Email templates under Communications
Email header image 600 pixels wide
Found in the Colors and graphics page under Settings
Account logo 1000 x 200 pixels
Account icon 150 x 150 pixels
Email logo: max. 200 x 200 pixels
Account header image (accounts with spaces only) 980 pixels wide and less than 400 pixels tall
Concerned about your site pages load speed?
Images size does definitely affect how fast your Site will load on any browser and internet connection. In Simplero, you can enable the WebP format conversion to reduce image sizes without losing quality and massively improving the page load speed.
You will find this feature under Account>>Test Track>>Auto image conversion

dimensions 
Last updated 25 Aug 2021.