Bulk Actions
You can now select multiple contacts and perform a single action to them at one time without needing to create a segment. 
Bulk Action
Select the Lists & Contacts or Products from your Simplero Dashboard

In the Lists & Contacts, select the Contacts tab or Lists tab

Or from the Products, select the product and then select the Participants tab

Check the boxes next to the names of the contacts or the checkbox at the top to select all on the list. You can also select all contact on the table on the link that shows up right after checking the top box.

Click on the Select action... drop-down and choose an action you desire
The actions available on each table vary depending on what's available. For example, on the Affiliates table, you can select actions relevant in the affiliates context like approve, reject or retire.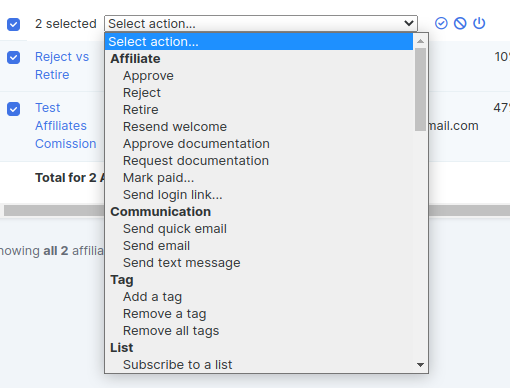 Last updated 29 Sep 2022.