Renewal Notifications
Setting up Renewal Notices
Select Settings from your Simplero Dashboard
Select the Product tab
In the Product settings screen, scroll down to the Warn about renewals section
Set the number of days you want the system to send a Warning about renewal when the last subscription period was longer than x days 

Note: At this time there is no way to edit the text of the renewal email that goes out, but here is a screenshot of that message.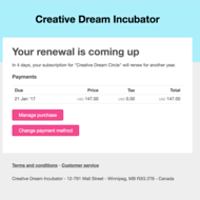 If you want to send a customized renewal notice we recommend setting up an Automation as follows. 
Step 1: Wait 1 year (or whatever the subscription time frame is)
Step 2: Send Templated Email (You would select the renewal email from your email library)
Step 3: go back to Step #1
Once the automation is set-up you will add 2 triggers in your product:
Trigger 1: The first automation will be activated by the purchase and should perform the action of starting the automation
Trigger 2: The second will be activated when a purchase is canceled/deactivated and will stop the automation
Last updated 6 Sep 2022.