Current Lesson
Course Content
Funnels Steps: landing pages, order forms, scheduling links, surveys, split tests, and conditional steps
When you add a new step in a funnel you will have five step options to choose from: landing page, order form, scheduling link, split test, and Conditional split.
Landing page
Use a landing page to introduce leads to your funnel. These are most likely set up as opt-in forms to your list!
Click on Add step > Landing page.
You'll be redirected to the New landing page flow.
Choose a template.
Update the opt-in list.

Go back to the funnel overview to edit the step name and Landing Page URL.
We recommend you add now another landing page to confirm their subscription, and as a transition to your product order form.
Note! If you already have a landing page that you'd like to add to your funnel follow the steps below.
Navigate to the landing page settings.

Click on the 3 dots menu at the top right corner.

Pick one of the 2 options:

Turn into a funnel

Add to existing funnel
Order Form
Let's add a Product order form to your funnel!
Click on the '+' button and choose 'Order form'.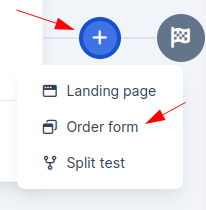 Pick the product.

Done!
Your leads will be shown the Product order form presented as a one-step checkout!
We recommend you set up a thank you landing page at this point to confirm their purchase.
Scheduling links
For example, right after someone purchases a session with you, take them to your Scheduling link right away in order to book an appointment with you.
Click on Add step (the plus icon), then click on Scheduling Link and pick your link from the list.
Surveys
Include a survey at the last steps of the funnel to learn about their experience through the process.
Conditional Split tests
This is a great tool to split traffic based on any condition.
For example, show Product B order form if someone has already purchased Product A.
To add a conditional step click on Add step (plus button) > Conditional split.
Now add the different branches to split it on.
Lastly, click on the button 'Conditions' to determine what makes a contact eligible to one branch or the other.
Split tests
Are you into split testing your landing page performance? With Simplero funnels it's really simple to set them up and see the results right away.
Click on Add step > Split test.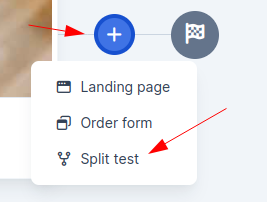 Click on Add branch > Landing page

You can add as many branches as you like, and adjust their ratio weight to have them displayed across the funnel traffic using the plus and minus buttons shown on hovering.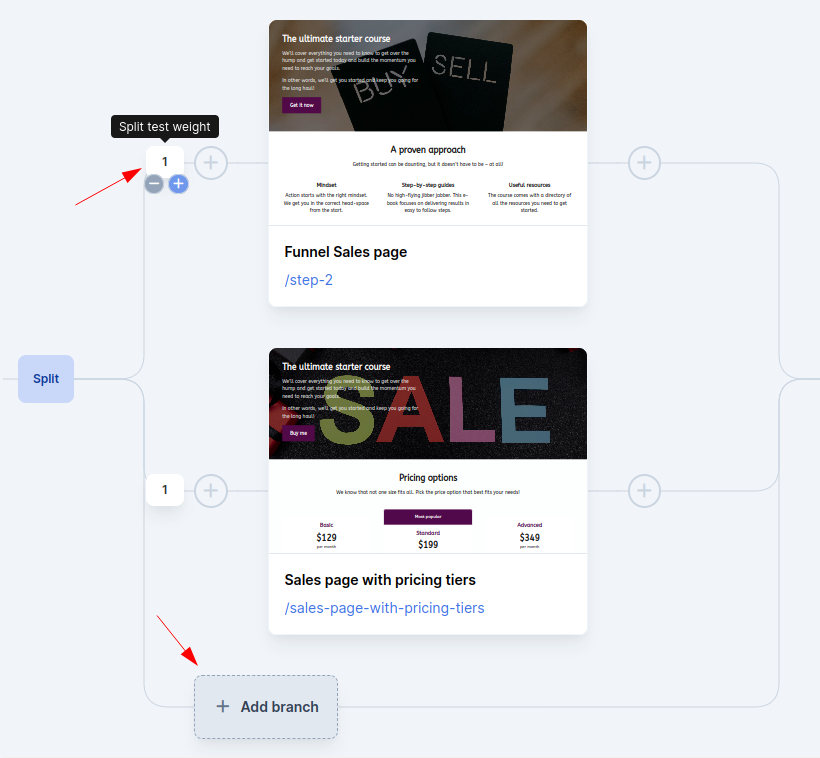 Add triggers to a funnel step
You can set up 2 types of triggers on funnels steps:
Funnel page is visited

Someone submits a signup form
Click on the 'Add trigger' button located at the top right corner of the funnel step card.
That's it!
Check the next lesson on Funnel Stats to know more about the Split test data.
Last updated 24 Aug 2023.