Current Lesson
Course Content
Using Your Custom Domain (URL) with Simplero
If you have purchased a domain name, it's absolutely possible to use that domain name with your Simplero site. 
This is a guide on how to configure a custom domain name, for example - www.yourcustomdomain.com or shop.yourcustomdomain.com.
How to Configure a Custom Domain with Simplero
Step 1: Configure the DNS to add a CNAME
First, you need to go to your domain registrar, i.e. wherever you purchased your domain (Google Domains, GoDaddy, Namecheap, Bluehost, Hover, DK-Hostmaster, etc.) and create settings that say Simplero will now be my host. 

To do this you will add a CNAME record on website's DNS. That sounds complex, but really it's pretty easy. 

Each domain registrar has a different interface, but every single one has an area to configure the site's DNS. 
We want to add a new CNAME record with host (name) = www (or whatever subdomain you want like shop) and Points to = your Simplero site URL. 

UnoEuro interface looks like this -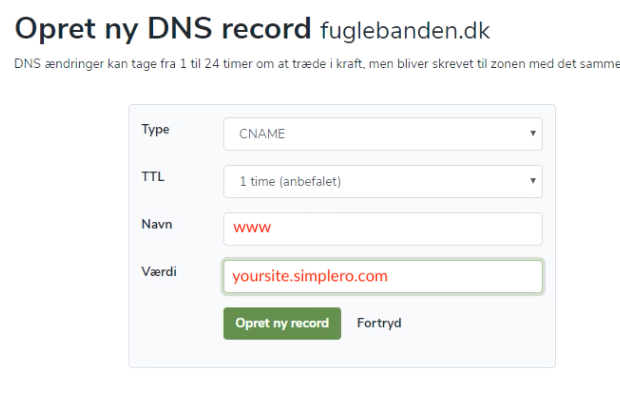 In the host (name) field, you do NOT need the full website URL - just the www (or other subdomain, i.e. shop). 
You can only have max 1 record with www (or other subdomain). If you try to add a 2nd the domain registrar will show you an error that www is already used. Remove or edit the original. 
You can leave TTL (Time to Live) as the default. Or update it to something smaller like 30 minutes. 
That tells the browser to look at your Simplero site if someone enters your domain. 
Step 2: Add the Custom Domain in Simplero
 In your Simplero admin go to Settings >> Change Your URL >> Custom Domains
Click on Add Domain and add your domain - be sure to include the www (or other subdomain). 

Click the blue Save changes. 
If the DNS is setup properly, you'll see a check mark. Sometimes takes 15-60 minutes for everything take effect. 

The final step is "Points To". You can have this domain point at: 
Your main site
A membership site
A landing page
You can even setup multiple custom domains points at different sites.  
SSL configuration (https security) is automatically handled by Simplero. It takes about 24-36 hours to successfully configure so check back if you don't see the check mark. 
While SSL is waiting to configure, your site's internal links will automatically redirect to the Simplero site.
Step 3: Forward root to www
The final step is to forward the root site to your www or shop subdomain.
In other words - forward yourcustomdomain.com visitors to www.yourcustomdomain.com. 
Back in website's DNS you can setup a 301 redirect. 
For example, this will send example.com to www.example.com 

That's it! You now have a custom domain showing your Simplero site! 
If you get stuck, just contact Simplero support. We'd love to help you! 
-----
Notice anything wacky in this guide? Contact us in support by clicking "Need Help?" in your account and we'll help you out. 
Last updated 15 Sep 2019.