Current Lesson
Course Content
How To Use the Zoom Integration
Our integration with Zoom allows you to sync all your meetings and webinars in Simplero! This integration lets you track upcoming events and attendance details. You can also add multiple triggers based on your webinar events and participants to perform powerful actions. Plus, people who register for an event in Zoom can automatically become Contacts in your Simplero account. 
To use this feature, all you need is a Zoom account.

Pro Tip: Be sure to check out our Mastering Events in Simplero Workshop where Kristina and Olivia do a deep-dive into setting up Zoom events in Simplero

Installation
To get started, you first have to connect your Zoom account to Simplero. To do so, you can click on Content > Events on the navbar and then click the button that says "Connect with Zoom now."




After this step, you'll be directed to Zoom to authorize the Simplero integration (you might need to log in to your Zoom account if you haven't already). Once you click authorize, you'll be redirected to this page:


Once you've authorized the integration, we'll automatically start syncing your meetings and webinars. This might take a minute or two, and the page will automatically refresh when we're completely synced with Zoom.

That's it. Pretty simple, right?
Usage
Once the syncing is complete, you'll see a page similar to the one below that lists all your upcoming and past events. But that's just the start; there are so many more things you can do now!



We'll keep all your events synced with Zoom automatically and in real-time. That means, if you modify your webinar or meeting event on Zoom, the changes will be reflected in Simplero in a couple of seconds.

When someone registers for your webinar on Zoom, they'll show up as a Contact in Simplero as well.
You can also always trigger manual sync with Zoom using the "Sync events from Zoom" button on the top right of the Events page in Simplero.

Here are a few things you can do with this feature:

You can click on event names to view more info about the event, see participants, and add triggers.


You can click on the "Participants" tab to view all the participants that were registered for an event (if registration is enabled).


You can filter the participants by their registration status like "Pending," "Approved," or "Cancelled."

You can also filter by "Attendees" or "Absentees."

And you can perform various actions on participants like you can on a Simplero contact, such as sending a broadcast, giving access to a course, etc.

You can click on the Content tab to add triggers to your events. This means you can start registrants in automations, add tags, and do whatever you can do with Simplero triggers!

Triggers!
The following triggers are available:

A participant registers for an event.

A participant's registration is approved.

A participant's registration is denied.


A participant's registration is canceled.

A participant's registration is canceled by the participant.

A participant joins an event.

A participant leaves an event or event ends.
You can add these triggers in your automations or by clicking the "Content" tab on the events page.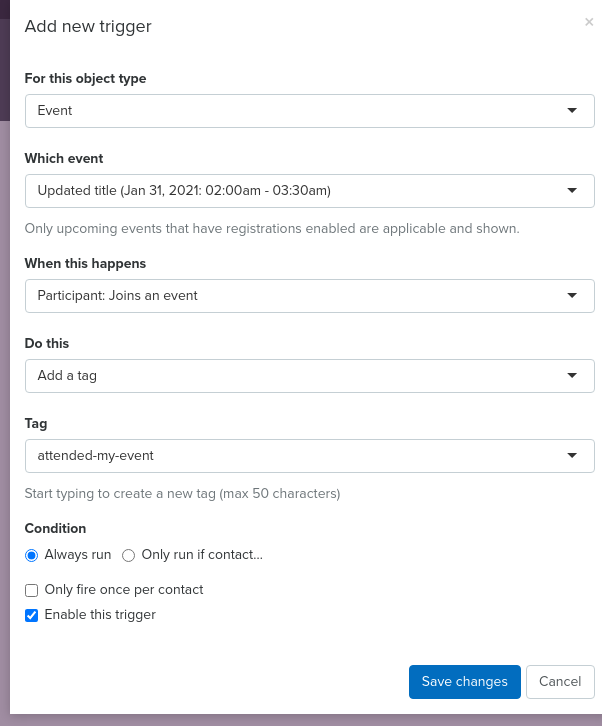 Actions
There are also four actions related to events that you can perform on any contact:
Register for an event.

Approve registration for an event.

Deny registration for an event (if the registration is pending).

Cancel registration for an event (if the registration is already approved).
For example, if someone subscribes to your list, you approve their registration for an event. Think of all the other possibilities!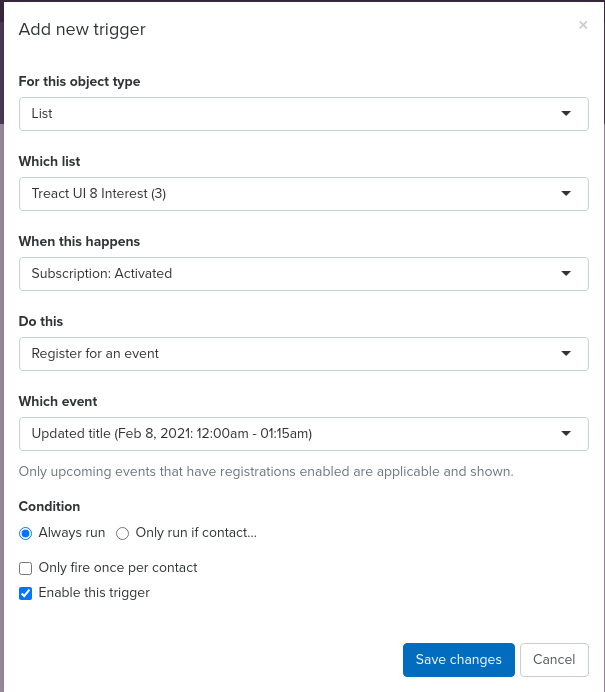 Note: The registration triggers and actions will only work on events that have registrations enabled.
Link to the Event in Your Email
You can also link to your upcoming events in your calendar using our link dialog. To do that, click the link icon circled in the image below, select "Upcoming events," and then select the event you want to link to.


This will add a link that will allow your recipients to view your event details and save them to their calendars.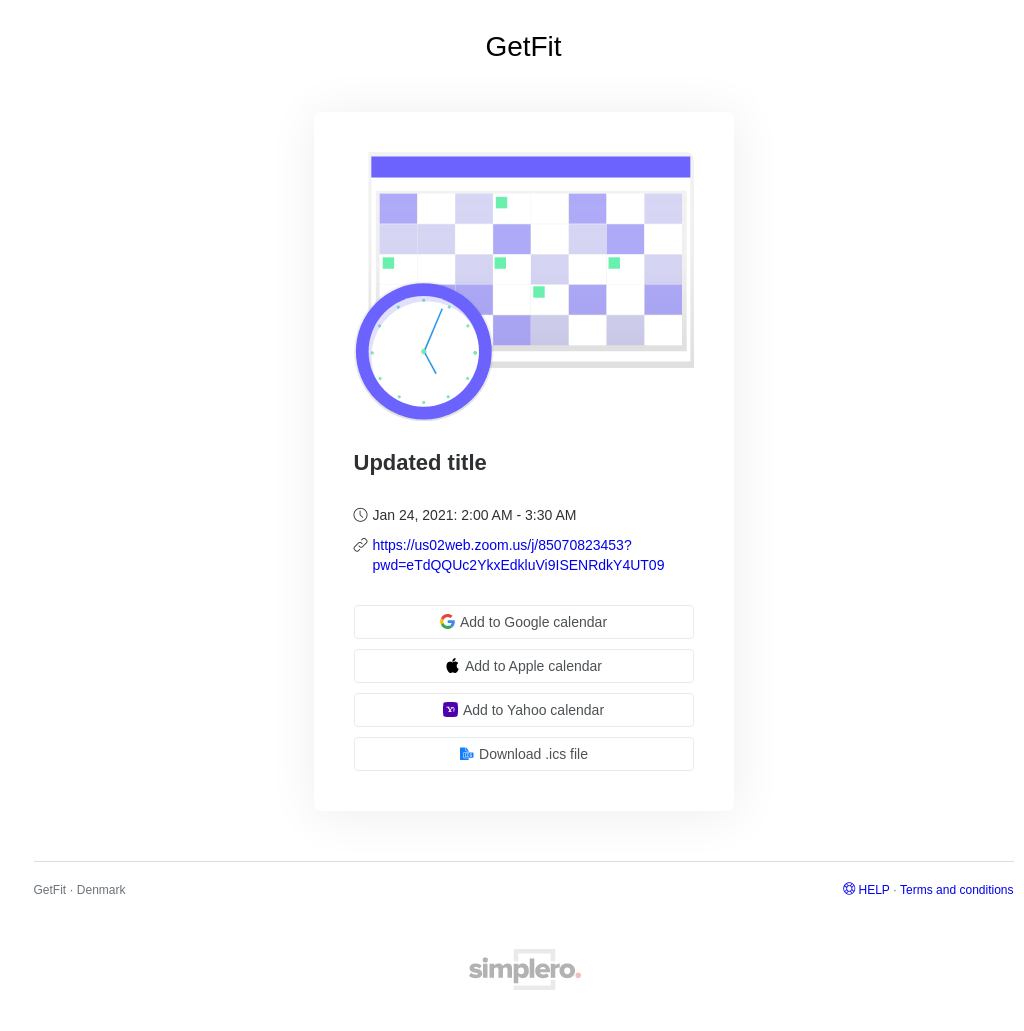 Limitations
Meetings that use a Personal Meeting ID (PMI) are not supported and will not work correctly. Please make sure that when you create a meeting, you choose "Generate meeting ID automatically." This should be the default already, but if you've changed it before, you need to switch it back for our integration to work properly.


Only scheduled meetings are supported; instant meetings are not.

If you are using a Basic Zoom account, be aware that Zoom doesn't support registration on basic accounts. In those cases, we won't offer registration to users on those events. 
Uninstallation
Uninstalling the Zoom integration is also pretty simple. You have two options here.
You can do it from Zoom, like this: 

Log in to your Zoom account and navigate to the Zoom App Marketplace.

Click Manage > Installed Apps or search for the Simplero app.

Click the Simplero app.

Click Uninstall.

You can do it from Simplero, like this: 

Click Settings on the navbar, and then click on Integrations in the sidebar.

You'll see your Zoom integration listed in the Active integrations list.

If you want to delete the integration but keep the associated data in Simplero, click "Remove integration and keep associated data."

If you want to delete the integration and all the associated data like Events, Participants & any associated contact records, click "Remove integration along with any associated data."
Note: If you remove the integration and associated data, we're legally required to delete all the associated data like events, participants, and customers that came from Zoom.

If anything is unclear or if you need help, reach out to our amazing support team by creating a support ticket. We'd love to help you! 
Last updated 30 Mar 2023.