Magic Login Link
Do you want to restrict access to your content but not require people to login with a password?  
We got you. 
Simplero offers a function called 'Magic Login Links'.  
Your users can request a Magic Login Link from a login page (thus preventing them from needing to login with a password)
AND you can use Magic Login Links instead of passwords for any or all of your restricted content.  Read on for the details. 
The Magic Login Link allows the end-user to access your content right away from an email.
Good stuff to know before you send a Magic Login Link
For safety reasons, the Magic Login Link expires in 24 hours. 
If the end-user clicks on an expired Magic Login Link,  we will let them know that the link has expired and will automatically send them a new Magic Login Link to their email.
The link will only work when
sent from a Broadcast, Email for Automation, Auto-response email, or by a Simplero Trigger and
the content is in a Simplero Site
How to make a Magic Login Link
On the broadcast/email Editor, insert any text then set up a link via the icon 


Paste any URL within your Simplero site and make it Magic!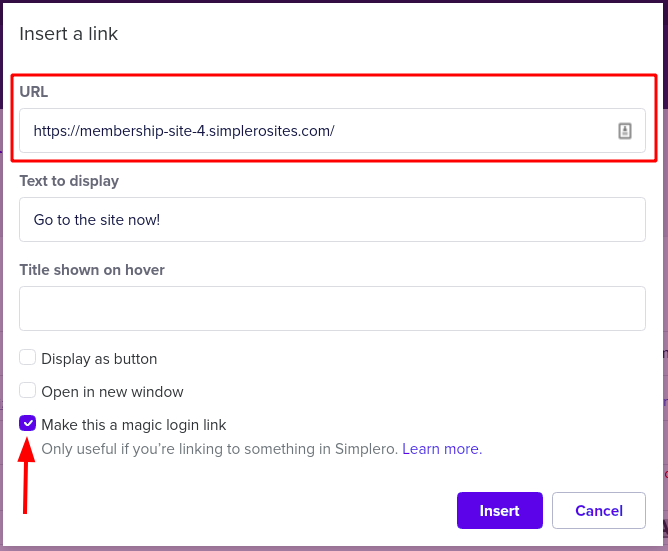 Done! The link to the content is now Magic!
FAQ
My customers receive a second notification with a new link when they use the Magic Link, why is that?
>> When a Simplero user has access to content in multiple Simplero accounts, we can only grant automatic access via a Simplero notification. This is safety stuff we cannot change, unfortunately. If the original link has expired, we will automatically ask them to check their email to find their new Magic link!
Last updated 26 Oct 2022.