Current Lesson
Course Content
Done-For-You Campaigns
We are so excited to have created a way to share high-performing campaign templates with you! 
With a few clicks, you can install the template for one of our campaigns (or on another Simplero user's campaign). 
You can find them on the Marketing >> Done-For-You Campaigns.
As of today, there are 9 Done-For-You templates with the following content pre-built for you. Check on this section as the list keeps continuously growing.
Bourbon Lead Funnel: a funnel, a list, and an automation.

Course Launch Challenge: specific to the Course Launch Challenge we did at Simplero.

Everest Lead funnel: funnel, list, and an automation

Freebie Giveaway: a landing page and a mailing list.

Opt-in Sale: Tags, and opt-in list, 2 automations, 2 emails, 2 landing pages and 11 broadcasts.

Product Launch: Sales Page, video pages and 10-email automation.

Product Survey: 3 broadcasts.

Reviver Email Sequence: automation

Soap Opera Email Sequence: automation
Each campaign has its own particular settings when it comes to installing it, but the ones below are common to them all.
From the Available tab, click on the campaign name to install…
Fill in the installation settings:
Label name

Label color

Prefix for created objects
When you get the Campaign installed you will be able to quickly locate which objects belong to it thanks to the label and prefix automatically added to them all: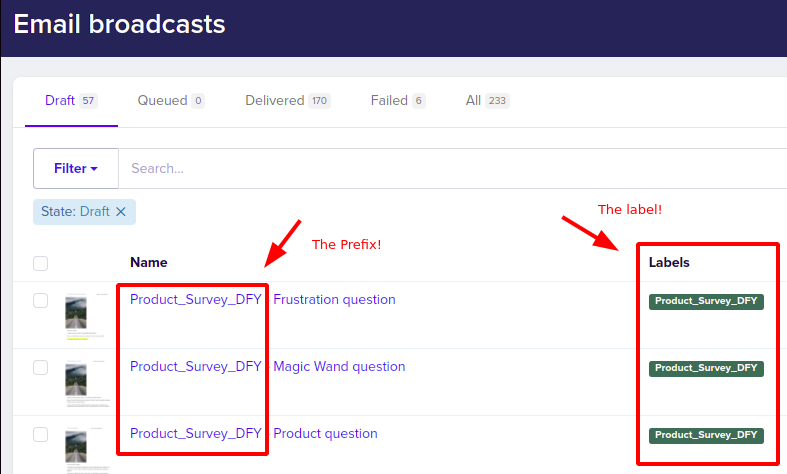 When you install any of the Simplero Campaigns a checklist will show up on your dashboard to guide you through the content we've just created for you (so you don't miss a single bit of it!).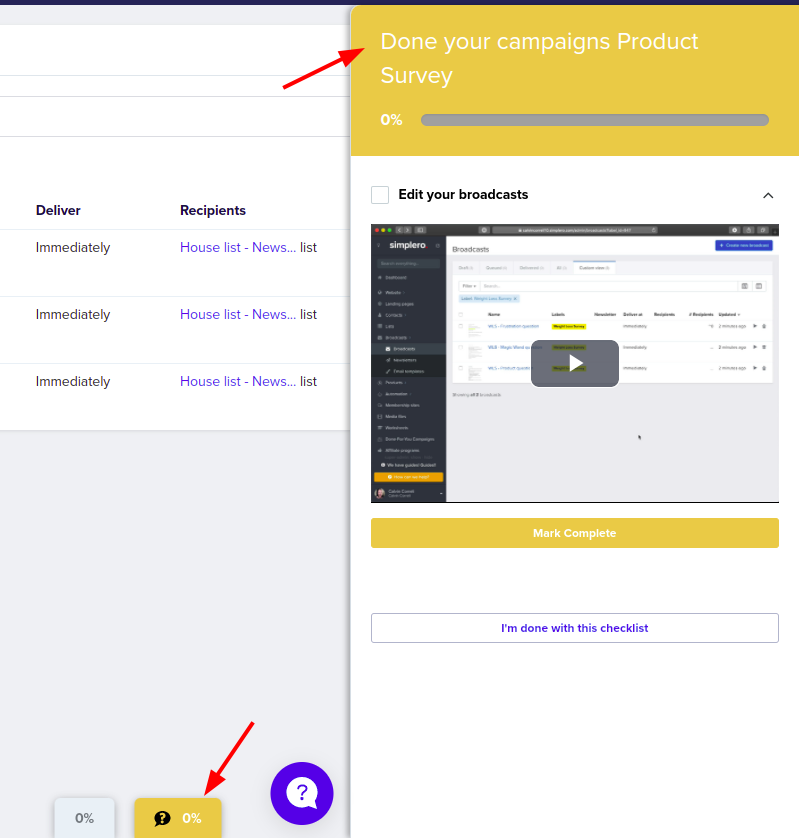 And if you would like to use this feature to create your own Opt-In campaign in just a few clicks, read on...
You can create your own Done-For-You Campaigns too and share them with any Simplero member to get installed in their account.
The first step is to label all those objects (lists, emails, automations, landing pages…etc) that you would like to be part of your new Done-For-You Campaign.
You'll notice that pretty much everything in Simplero can be labeled. That includes whole Sites as well as courses.
Important note!
If you are looking at installing your campaign including a course on a different Simplero account, you don't need to label the media assets (videos, PDFs, images) for them to be installed. We do that automatically for you.

Once you have labeled all your Campaign items, let's get the Campaign ready to share!
On the top right corner you'll find the "Create new Done-For-You Campaign" button.

Fill the details of your Campaign, choose the label that will the determine which objects are part of it and click on 'Create Done-For-You template'!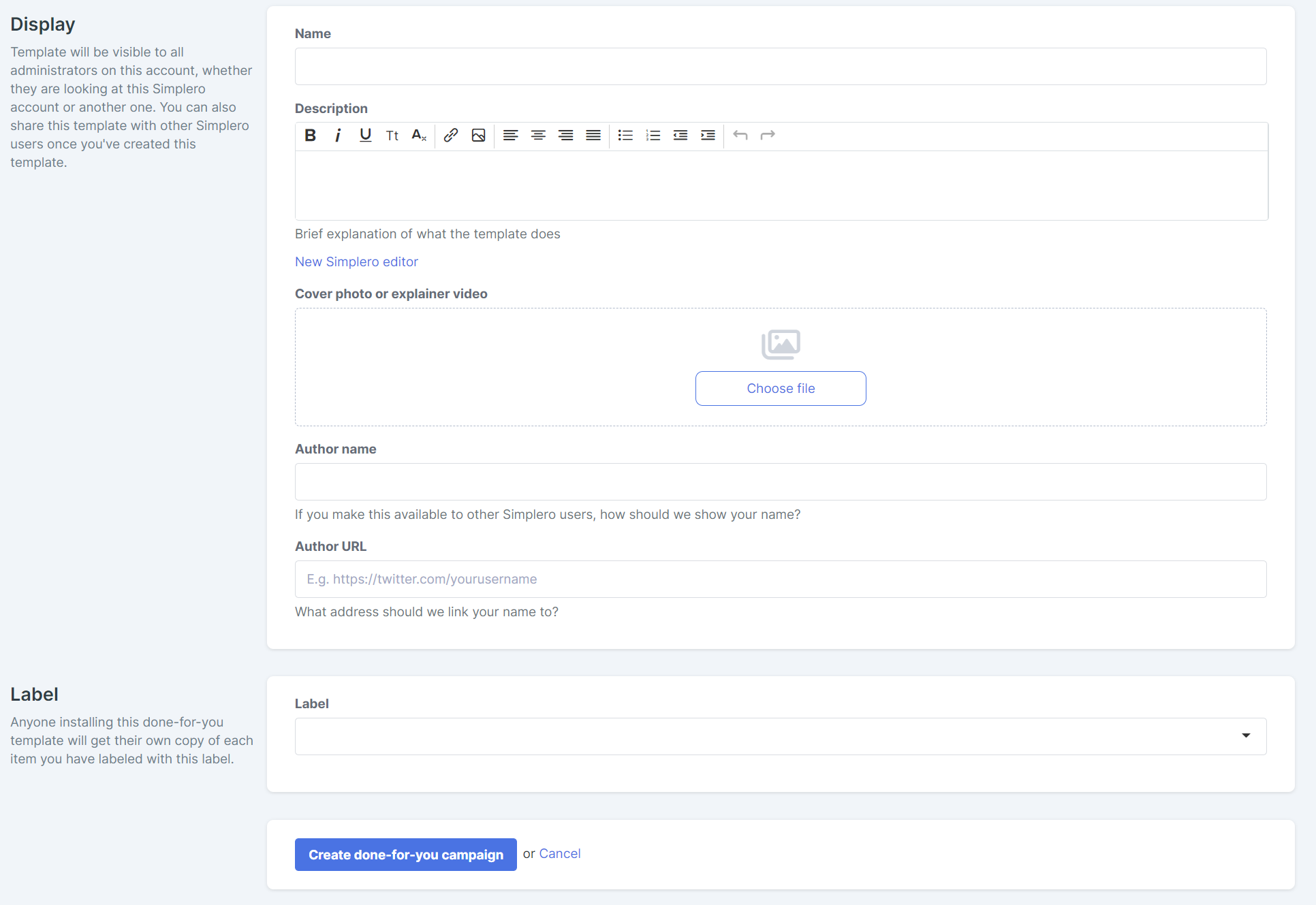 Now the template will be visible to all of your account administrators on any Simplero account they log in to.
From the account the Campaign has been created on, you will be able to edit it and copy a shareable link:
Installing a Campaign using the Share link
With your Simplero account dashboard open on your browser, go ahead and paste the Campaign link on the URL and click ENTER. You will now be prompted with the screen below: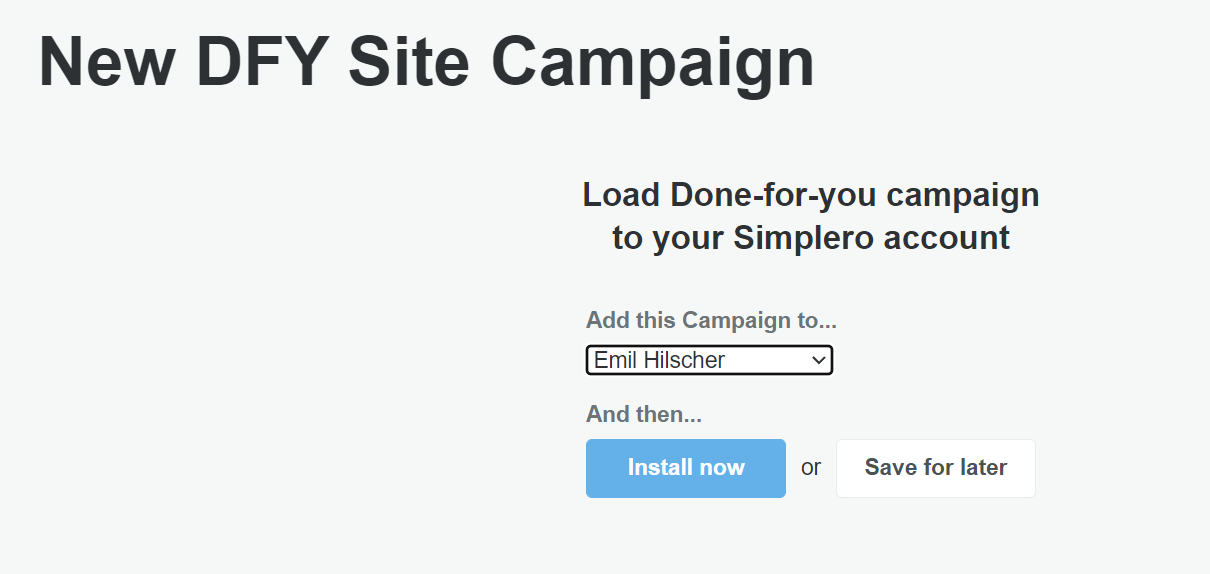 If you are an admin on multiple Simplero accounts, you'll be able to choose which account you'd like the Campaign to be installed on.

Then, either Install now…

or Save it for later
Installed campaigns, are listed in the 'Installed' tab:
If you click on the campaign name, you will be able to see which objects were installed through that campaign.
Important notes!
The installed course will be located on the Website Courses section instead of on the new site (that's the closest to cloning a whole site we can get! 😉).

Installing Scheduling Links

If installing the campaign on the same account then, owner & availability & calendar are preserved.

If installing it on another Simplero account, then, we assign the scheduling link to the owner of the destination account. We use the owner's default calendar for creating events (or leave as 'No calendar' if it hasn't been linked). For availability presets, we try to find one availability that's similar to the one we are cloning (and create a new one if it doesn't exist).

Segments are not supported in DFY campaigns
Have fun with it and let us know how it goes for you!
Last updated 12 Sep 2023.