Current Lesson
Course Content
How to Manage Your Lists and Contacts
A list is a group of contacts who have opted-in to receive emails from you, and knowing how to manage and nurture your list(s) is essential to running an online business. Often, a list is referred to as your newsletter, but you might also have a list for a webinar, a summit, or a specific free content download. Below are some of the best practices for managing your lists and contacts. 


House List
Most businesses should have one main email list that they send regular newsletters or emails to. In Simplero, this will be the list marked with a little house next to it.  

The house list, we call it affectionately. If you have multiple distinct audiences, you might have several main lists. When you send broadcasts, you want to always send them to your house list, unless it's specific to one of your sub-lists. 


Additional or Sub-Lists
Create sub-lists for events, webinars, or opt-ins.
While it's important to create sub-lists for specific events, webinars, or opt-ins, you still want to add those subscribers to your main list, so they receive your regular emails and newsletters.
For campaigns, typically, it's best to wait until the campaign is over before you add subscribers to your main list.
To add subscribers to your main list:
Navigate to Contacts>>Lists on your dashboard menu.


Select your House or Main list.

Select the Add subscribers tab then Copy from other tab.



Select from Lists or Products and mark the options you want for your Import options and Auto responses.

Click the blue Copy now button to save.
For evergreen funnels or special offers, you can add subscribers to your main list right away. In this case, the easiest way is to set up a trigger on the sub-list that also adds subscribers to the main list. You can temporarily pause emails to that list while subscribers are in the funnel by using triggers or adding a step in your automation funnel. 
Check out our guide on triggers for more on setting those up. 
When you're done with a sub-list, just click the little star next to the list on the overview, and we'll hide it from then on. It's not too hard to find, but this way, it won't clutter up your main list screen anymore.


Again, we want to emphasize that unless a broadcast is specific to sub-lists, it's always best to email the main house list.
If you have your sub-lists set up with a trigger to auto add everyone to the main newsletter, you won't have to worry about missing any contacts!  


Adding to Your House List From a Product
When you send newsletters and sales promos, we always encourage sending them to your house list, so it's a good idea to get people from your products into your main list. This can be done through a trigger in the product or by having an option on the order form allowing the customers to choose if they want to be on that list.


Importing a List From Another Server
When you import subscribers to a current list, you'll want to do so before turning ON Autoresponders or adding a Trigger to start an automation. This way, previous subscribers don't receive the welcome sequence a second time.


If the import is made via Upload, activate the checkbox at the bottom to not send auto-responses/welcome emails.


Who Counts as an active Contact (for billing purposes)?
People who meet these 4 criteria count as a contact in your Simplero account:
Contacts who have made a purchase, whether it's free or paid... we need to keep these around for accounting.

Contacts actively subscribed to a list. 

Contacts currently in an automation (if they've completed it, they don't count).

Contacts that have been tagged.

We don't count contacts that have asked us never to contact them ("Do not contact") unless they've made a purchase.
People only count once as a contact no matter how many purchases, lists, automation, or tags they have (assuming they are using the same email address each time).
To filter contacts by Active/Inactive, navigate to your Contacts page >> Filter by Active:

You can view plans here to see how many contacts are included in your plan or check out Plan and Billing under Settings from your Simplero Dashboard. 


How "Do Not Contact" Works
Customers can choose to ask us not to contact them again. It's like a "kill-switch" for all communications, whether for lists, products, affiliate programs, or anything else, and counts for all forms of communication, including broadcast, auto-response, or text message.

Do Not Contact: 
Doesn't include transactional emails like invoices, password resets, etc., but it does cover all broadcasts and emails.

Doesn't actually unsubscribe people from anything; it just stops all the emails and texts.
If a contact chooses to switch back to "Do Contact," all their subscriptions will be intact as they left them, and emails and texts will pick back up.
We need this feature because it makes it easier for people to unsubscribe in one go if they're on multiple lists, products, etc., and you're sending emails or texts to multiple lists, products, etc. We also use this feature because as we add tagging and segmentation, it's effectively the only way for people to opt-out.


GDPR notice for those doing business in the EU: Please keep in mind when using triggers based on customer actions that you comply with GDPR because actions such as these may violate rules in regards to consent and profiling. When you add someone to your house list after the purchase of a product, it's best practice to use the consent checkbox instead of a trigger that does it automatically. You can do the same thing on a list opt-in to a sub-list by using a custom checkbox asking for consent and then adding a trigger to that custom form field that adds a person to the house list. This message does not constitute legal advice. If you have a question about compliance, please consult a lawyer. 
What happens when a contact marks an email as spam?

If the broadcast that has been reported as spam is linked to a list, we will automatically unsubscribe the contact from that list.
You will find who's marked your broadcast as spam on the broadcast report:

And we'll show the spam report and opt-out event on the contact record Activity log:

What about when the broadcast bounce?
If an email to a contact bounces for temporary reasons (connection errors, full inbox, domain setup), we will let you know they did on the broadcast and contact records but we won't unsubscribe them from your list.


If, on the other hand, we record a hard-bounce (the email doesn't exist or the domain is invalid), while the contact will remain subscribed to your list, it will be excluded from the mailing list until the Bounce status is resolved.
We recommend keeping your lists clean of Hard bounces. To do so, filter Contacts on your contacts table by "Email Bounced":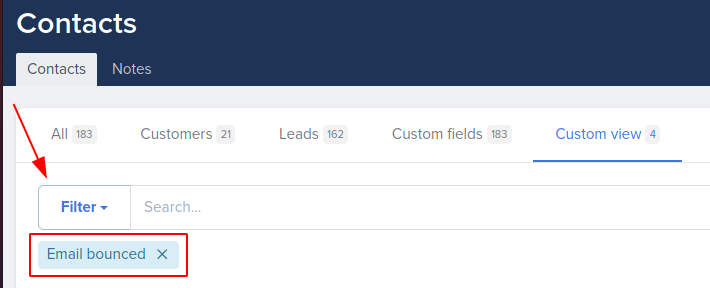 If the contact has been able to restore their email and is now valid, Reset the bounce flag on the contact record: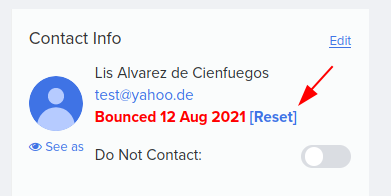 Otherwise, unsubscribe from all lists or delete if applicable.
Archived Contacts  
This is the latest addition to the Contacts Page that allows you to mark a contact as archived and revert the action.

You can mark a contact archived/unarchived using the "Select action" dropdown on the contacts list: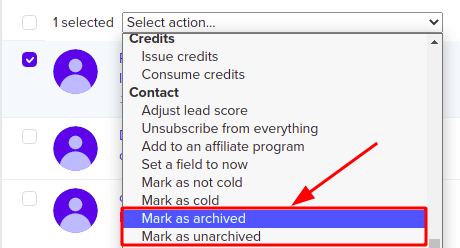 When contact is archived/unarchived, we record activities for those actions and anything that has been paused as a result of this action: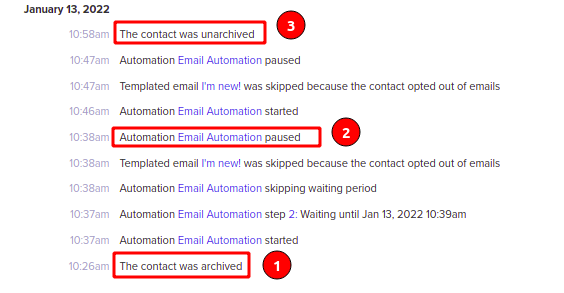 When a contact is archived, Simplero will pause any flows and suspend all subscriptions. When the contact is unarchived we will resume flows and subscriptions paused as a result of the archive action.
Notes:
You can't archive contacts that have either logged into a site in the last 30 days or have active purchases.

Archived contacts are not included in the number of contacts we bill you for.

As such, you can't email archived contacts (only system emails can be sent to an archived contact).
How Does Simplero Remove Duplicate Emails When Sending a Broadcast to Multiple Audiences? 
Great question! When sending a single broadcast to multiple classifications, Simplero will automatically remove the duplicate emails.

Let's say you have a customer named Sally in all four of the following classifications:
Zebras Rock (the house list)

Apples and Bananas (tag)

Xylophone Course (product)

Laughing Hyenas (segment)
If you send a single broadcast to all four classifications, Simplero will remove duplicate emails from those classifications in alphabetical order. In the example above, this means the broadcast would get sent to Sally once, via the Apples & Bananas tag. 

This isn't ideal, as Sally can't unsubscribe from a tag or a segment. That's why we always recommend sending broadcasts to a list or a sublist. This way, your contact can unsubscribe.

We encourage our users to not overdo it with sending broadcasts to multiple classifications. If a contact is on more than one classification, they have to unsubscribe from each one separately to stop getting emails from you.

It's best to make it easy for your contacts to know what they've signed up for by adding them to a minimal number of lists with easily understandable names.
Last updated 27 Jun 2022.