Current Lesson
Course Content
Closing your Account
How Do I Permanently Close/Cancel/Delete My Account?
We're sad to see you go but, we respect your decision. With great sadness. 
Log in to your Simplero account. The URL is going to look like https://yourname.simplero.com/admin.

If you don't remember where it is, try to see if you can find the welcome email you received when you opened it. The subject line is "Simplero Welcome".

If that fails, try visiting this page, and see if it shows up there. You'll be asked to log in.
Once you've found your account:
Select Settings from your Simplero Dashboard

Select the Plan and Billing tab

On the Plan and Billing page, scroll down to the bottom and click on the button that says Delete my Simplero account.



Complete the short Survey and Choose the option to Close your account on the final step.
Note: Before you close your account you will want to remove your content, export your contacts, and any accounting you'd like to keep from the Invoices screen under Sales.

If you'd like, you can book a 30 min free call appointment to talk to our team before you decide to close your account. Perhaps we can work out a business plan or find out how to better use Simplero. To do so, click on the link "Book a 1-on-1 session" and follow the steps forward.

Also, note that as soon as you close your account any future payments due to you will stop being collected and your customers will lose access to content. 

How do I temporarily Pause my Account?
We understand there are times when you need to step out for a bit, focus on other projects or just take a break from your business.
Simplero allows you to put your Simplero Account on hold. For a small fee, we can maintain your data and keep your business ready for when you are ready to start up again. 
To do this: 
Navigate to your Account Settings >> Plan and Billing page.
Right at the bottom, click on Delete my Simplero account… link.

After a short survey to get to know a bit more about why you are leaving Simplero, we offer the option to Pause your account at the very final step.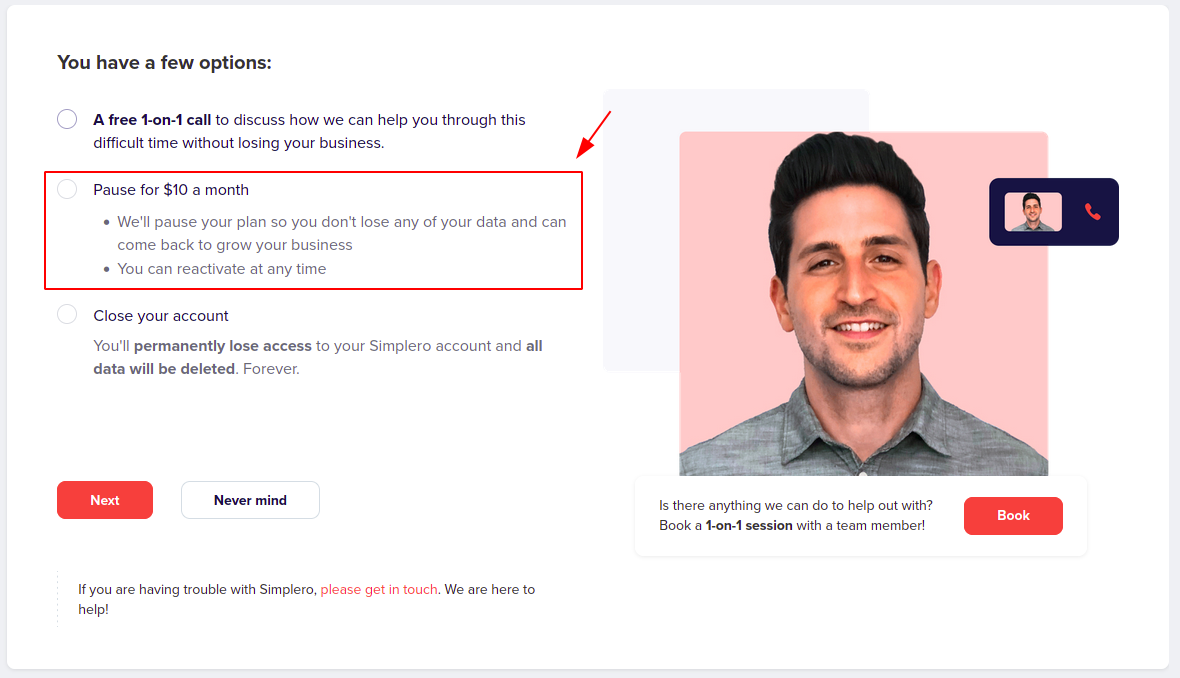 You can also skip the survey and pause your account directly here.
As soon as you Pause your account your dashboard will be limited to the Account Settings, Administrators and Plan and Billing pages.
We will also show you:

What' Simplero storing for you while your account is paused.

How many days you have left on your subscription and when you should expect the next renewal if you re-activate.

You can Resume your Subscription at any time.
Warning!
Your Sites will show Page not Found while your account is Paused. Once you resume, they will automatically restore to the status prior to pausing (published, dripped, scheduled).
Before you Pause your account, we advise you to update any active purchases in your Simplero account. Note that you will not be able to pause your account if there are any active purchases. You can cancel on the Purchase Summary page.
Reach out to the Support Team if you have any further questions!
Last updated 4 Oct 2023.