How to setup MobilePay
Are you one of our many Danish users who is excited to use MobilePay in their Simplero account?  Well you've come to the right place!  
Here's how to set it up.  
First, you need to add the option to accept MobilePay to your QuickPay account.  In order to be able to accept MobilePay, you must have a Nets, Teller or Clearhaus agreement.  
Login to your QuickPay account

Go to Acquirers 

Select MobilePay Online 

Enable MobilePay Online
Then comes the easy bit.  Here's how to add the MobilePay option in Simplero.
In Simplero, go to Settings and then Payment Processors

Go edit your Quickpay processor. If you don't have a Quickpay processor yet, hit "add new payment processor" and choose Quickpay. Enter your Credentials from Quickpay. 

Check the MobilePay box

Test it to make sure it works

Go to the order form of a product with a purchase price to see if the MobilePay button shows up after the person clicks the green 'continue payment' button. 

MobilePay is only an option for single purchases.  Subscriptions aren't supported by MobilePay via QuickPay.
It will look like this if it's set up correctly: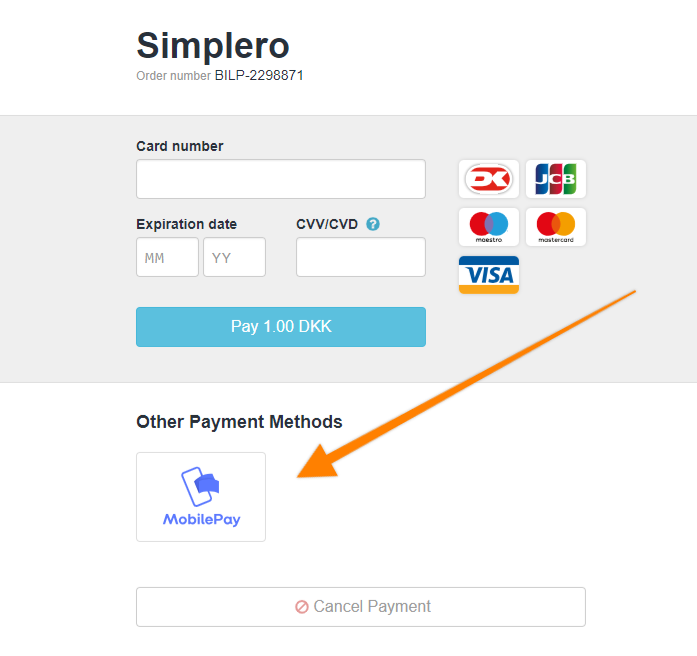 Now go sell lots of stuff with MobilePay! 
FAQ
 Does MobilePay work with order bumps?

How about MobilePay and upsells, do they work together?

They don't. MobilePay does not work with upsells unfortunately.

Do you support MobilePay Subscription?

Not yet! We are hoping to be able to in the near future.

What about VIPPS, is that able to be set up?

Yes, it is, if you want to setup VIPPS, please see QuickPay's article about VIPPS: https://quickpay.net/dk/payment-methods/vipps/ - They offer both the option to use an option called ReserveCapture, which is for gathering payment later, good if you're using authorization-only products, and DirectCapture for any other one-time purchase products.
(I'm going to mis-spell this here as Mobile Pay so it comes up in a search...) 
Last updated 31 Oct 2023.