Current Lesson
Course Content
Support tickets
We all know that customer service is vital to any business. Keeping customers happy means they will become longtime customers. But as a business owner, your inbox is probably pretty full and customer emails can get lost in the mix, meaning you could miss the opportunity to support and wow a customer. 
Simplero makes the customer service part of business a little easier with our built-in support ticket feature. 
How it works...
You forward your support email address, to an email address that Simplero provides for you when you turn on the feature. All emails to your support email address (often something like support@mybusiness.com) will then show up as support tickets inside your Simplero account. 
You or your team can then respond to them and begin a conversation with your customer. When you have addressed their concern, you can mark the ticket complete and it will be saved in your Simplero account so you have it at easy reference. 
Let's help you get set up...


Utilizing Support Tickets with Your Customers
First, enter the email that you will tell your customers to write to when they need support on your Account Settings. This may be something like support@mybusiness.com.  This will be linked to when customers click on the 'Customer Service' link in the footer Navigation menu on your Site and your Membership Sites.

Now, turn on support tickets.

Select Settings from Simplero Dashboard

Select Support tickets

Switch the box that reads "Use Simplero's support ticket system for your customers" On.

Choose which sites you'd like the Support widget to show up on.

If you want to send an automatic reply to your customers after they submit a help ticket, enter that in the Auto-Reply section.  This could explain how often you check the support email or give them some helpful information that might enable them to solve their problem. 

Set the default assignee for your support tickets.  This person must be an Administrator on your account with Support tickets permissions. Alternatively, you can leave tickets Unassigned.

Click the blue Save changes button

Forward Your Email 
You must now forward the email address that you tell customers to write to when they need support to the custom ticket email address we provide you.  That email address will appear in several places on the Settings > Support page and will look something like this: 


You will need to do this through the company that provides you with your email address (Gmail, GoDaddy, One.com, etc).  


Go See What It Looks Like
Select Communication from your Simplero Dashboard

Select the Support Tickets tab

Support tickets should now be an available option (If you don't see it, that means that you didn't save your settings in the steps above.  Go back to the beginning of this guide and turn on the setting).  




From this screen, you can also change the default assignee (so your team members can take turns, perhaps) and turn on SMS Alerts, which would send a text message to the Admin who turned on the Alerts whenever a new ticket is received. Simply click the Assignee button to assign another member and click the SMS Alerts off button to change the alert setting.


To Use Support Tickets
When someone emails your support email address (support@mybusiness.com, or whatever email address you have set up), the email will filter to Communication - Support Tickets and then into the Open tab.
Each email will show in a list like an image below:

To view and respond to the ticket, select the ticket subject. You will be redirected into the ticket where you can read it.  There will also be a box to write your response. After you typed your response below the box, you have 4 options: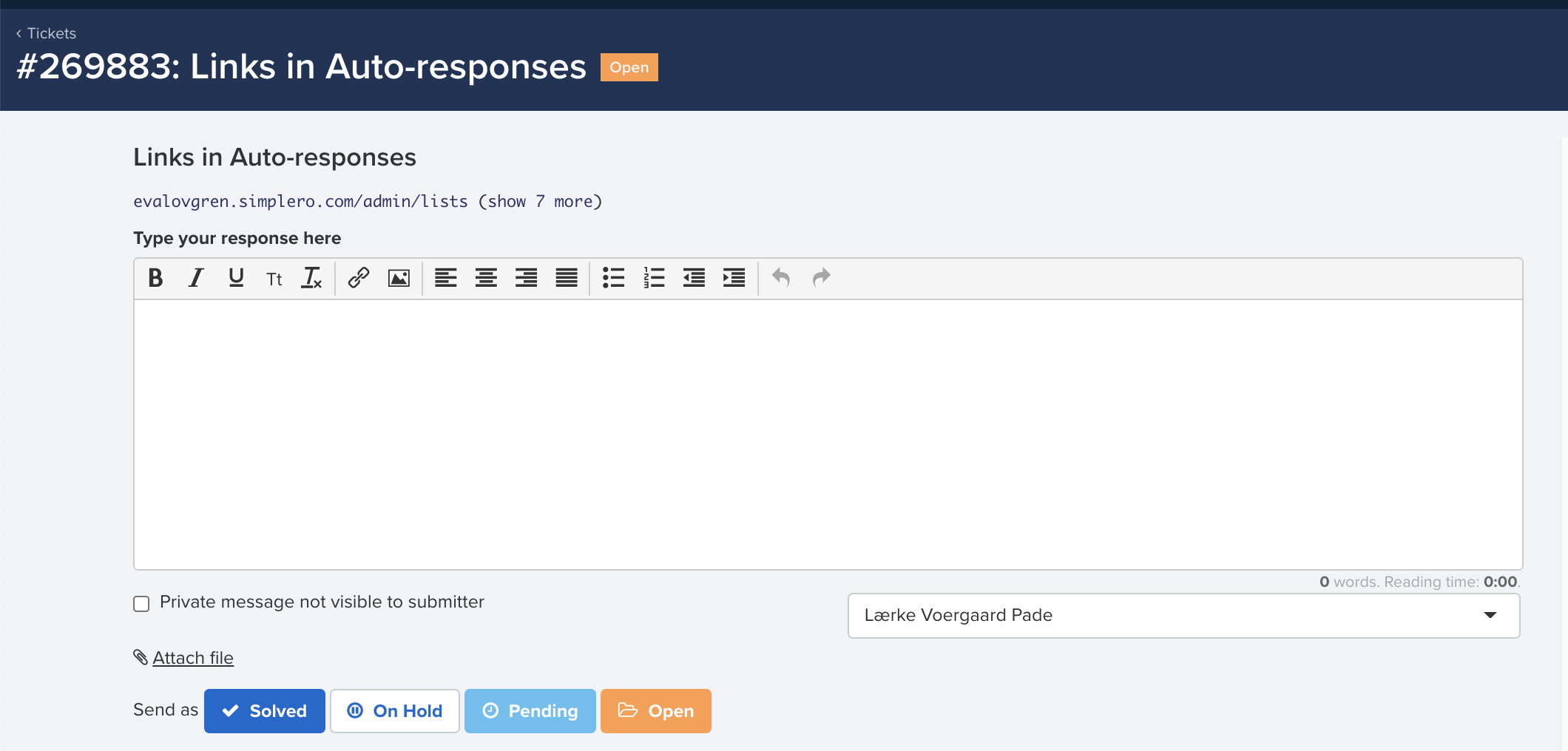 Send as Solved - You are closing the ticket. You will still have access but it will be filtered down to the bottom of the support ticket page under "Closed"

Send as On Hold - You are responding but placing the ticket on hold for some types of reasons

Send as Pending - You are responding but want more information. It will move into a "Pending" section in your list

Send and keep Open - The ticket will stay on the list of support tickets right where it is
If you want to converse about the ticket with a team member, check the box below where you type your response that reads "Private message not visible to submitter." Reassign the ticket to who you want to engage with, and then click the send as Open button.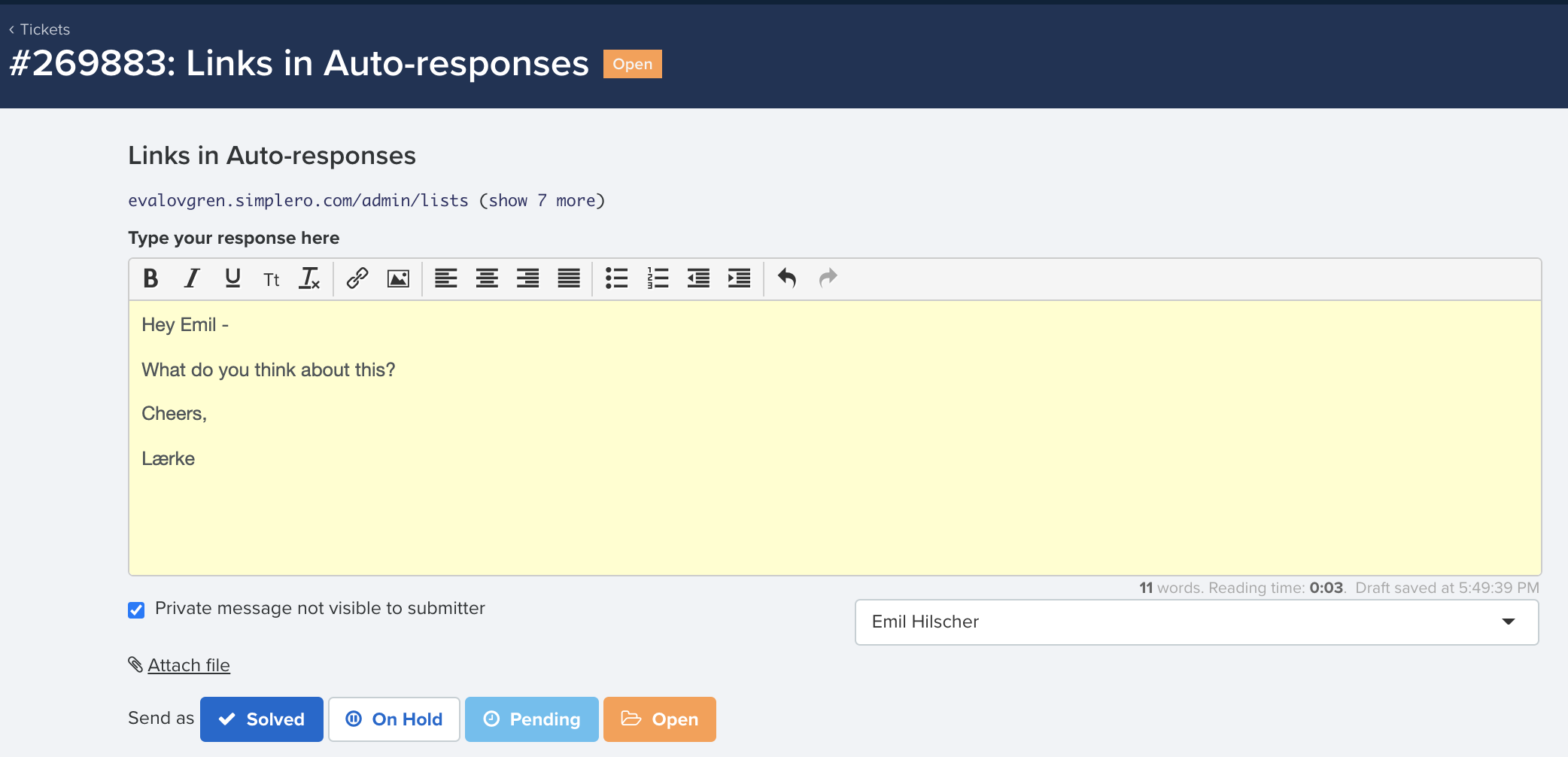 Re-Assign functionality
If you would like the ticket to get automatically re-assign to the default assignee when receiving a reply, then switch the toggle to ON.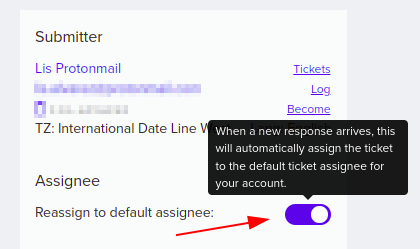 Note you can set the default assignee at the Support Tickets setting page or at the Support Tickets dashboard page.

This feature is particularly helpful when you have a large team working on Support Tickets and would like to speed up your response-back time.
Tickets Search Tool
Located at the right sidebar of your tickets you will find a Search bar tool:

Things you'll need to know >> Search results will be a list of solved support tickets + knowledge base site's content.
There will be at the most 10 items

Tickets and knowledgebase content are ranked, but tickets always appear above knowledgebase content.

Marking a ticket as canonical (using the pin icon) will boost its ranking in search results.

Create a New Ticket
If you wish to reach out to any of your contacts internally through the support tickets system, click on the small "..." in the upper right corner and then click "Create ticket on behalf of contact" and follow the instructions below:


It may happen that you'd like to start an internal communication with someone that is not one of your contacts yet..
You can add them here in order to be able to do so:

As soon as you Create the ticket, an email notification will be sent to your contact for them to reply to you directly!
Create and Manage Macros
Make it easier for your Support Team to respond by having pieces pre-made.
This feature is only available in the New Simplero editor, which must be enabled with the ProseMirror feature flag in your Simplero Labs for this to work.


You'll now find at the end of the Editor options the Macros icon

to either insert a saved Macro or create a new one from the text already typed in the ticket.

Give it a name, edit the Body if needed and save the Macro.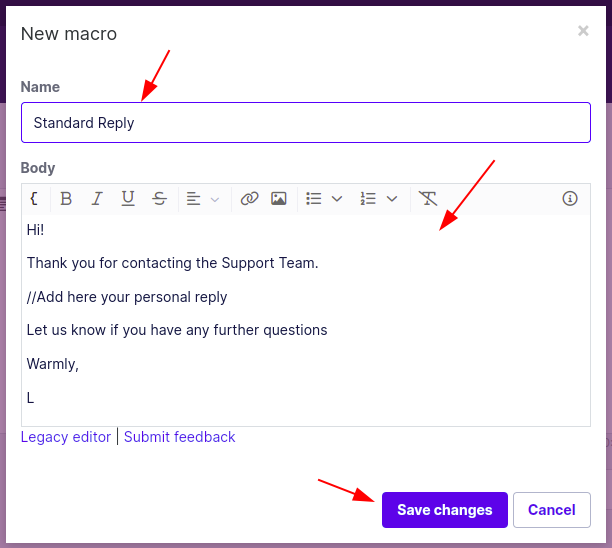 It will now be available on any ticket in your account.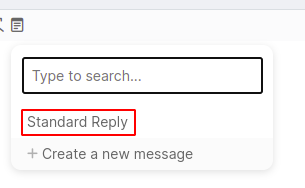 You can also manage existing Macros on the top right corner of the Tickets page:

On this page you can Create Marcros, edit and delete them:

Last updated 6 Sep 2022.