Current Lesson
Course Content
Setup a Custom Email Domain
These steps will ensure that Simplero is authorized to send email on your behalf. This will improve your site's email deliverability. 
Start by navigating to Settings >> Email settings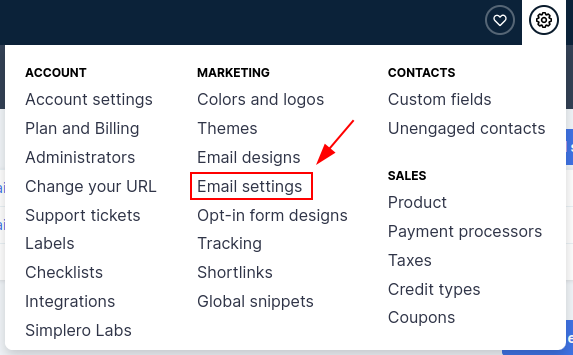 In the Sender domain section, click the blue + Add email domain button

Add the domain part of the email you want to send as (e.g. if you're sending as calvin@simplero.com, you would add the domain simplero.com). 

You'll now see the TXT records and CNAME records that need to be added to your site's DNS - these records can take up to 24 hours to be verified. 
Although DNS providers differ on the way you add the records they fields you will find will be very similar to the ones described below.
The SPF record will be added on your DNS settings as Hostname= empty or @, Type=TXT, value=v=spf1 include:sendgrid.net~all

The DKIM record it will look like below: Hostname= value on the first column (smtpapi._domainkey.yourdomain.com), Type=TXT, value=SET value (k=rsa; t=s; p=MIGfMA0GCSqGS..)

Do the same with all the records (TXT and CNAME) provided to you on your Simplero dashboard.
   5. Once all have been added, click "Check Domain".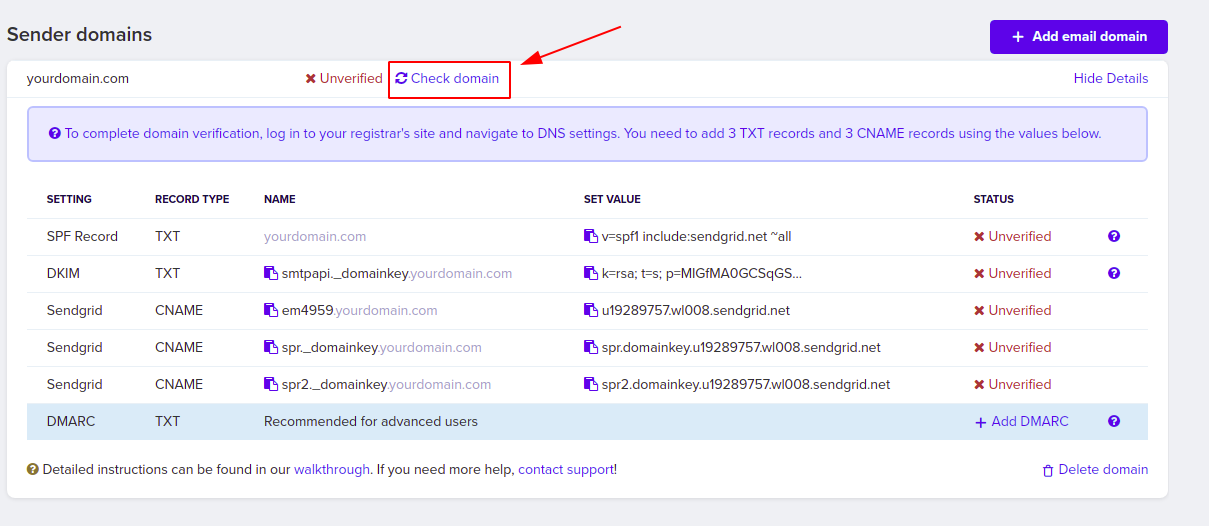 *Note: You can only have one SPF record for each eamil domain. If you are using Simplero alongside with another email provider (fe:Simply), you'll need to combine the SPF record as below:
v=spf1 include:spf.simply.com include:sendgrid.net ~all
Adding DMARC
DMARC stands for "Domain-based Message Authentication, Reporting & Conformance." DMARC is a protocol that uses Sender Policy Framework (SPF) and DomainKeys identified mail (DKIM) to determine the authenticity of an email message.
DMARC requires both SPF and DKIM to fail in order for it to act on a message. It is therefore an optional step in verifying your email domain in Simplero.
If you would like to setup DMARC for your email, here are the steps: 
Under Settings >> Sender Emails >> Sender Domains
1. Click + Add DMARC

2. Enter your email and hit "Setup DMARC"

You will receive a weekly report to this email showing deliverability metrics. 
3. Add TXT record to DNS

4. Once the TXT record has been applied (can take up to 24 hours), click Check Domain again to verify your domain. 

When all the records have been properly added to your DNS, your verified domain will look like this:

Important note! Once the domain shows as 'Verified' it won't refresh to the current status. This means that if your DNS records change any time in the future, we won't be able to tell. If you are experiencing deliverability issues while the domain is verified, we suggest you check your DNS records are still in place.
Do you have questions or need help to have your Sender domain set up? Reach out to the support team on the question mark on the bottom right corner on your dashboard :)
Last updated 29 May 2023.