Simplero Mobile App (iOS and Android)
The Simplero app makes learning from Simplero creators on the go simpler and more accessible than ever.
Easily access your entire library of Simplero purchases and content, track your progress, and grow wherever you are. We are constantly improving the Simplero app.
Today, you can:

View any courses and lessons from your favorite Simplero creators

Add new comments, reply and react to everyone's comments.

Track your progress and sync your progress with Simplero on the web

Download content for use when you don't have a good signal or don't want to stream video

AirPlay content to any AirPlay compatible device

And much more to come!
Login page
Once you've downloaded the app, enter your username or email and password then click on Log in: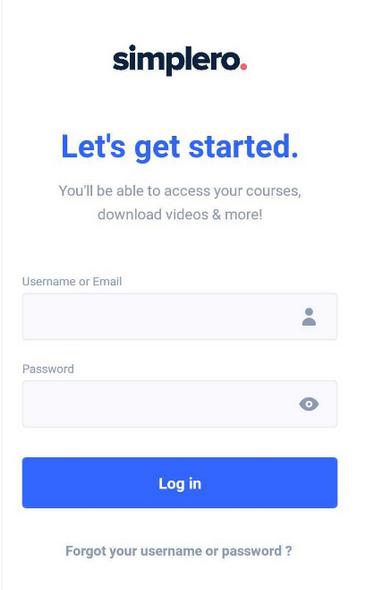 Your Simplero Stores

 The left menu icon will open a side bar showing all the stores you have purchased/signed up on through Simplero: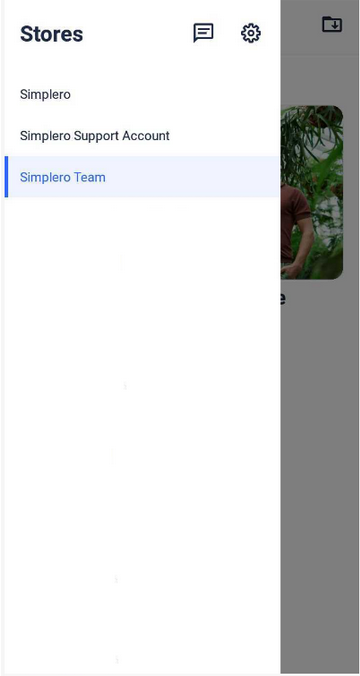 Your Sites and Courses within the Simplero Store
Here you can find all the sites you have access to on the Store you just chose. 
You can navigate through them to access the courses on each of the sites: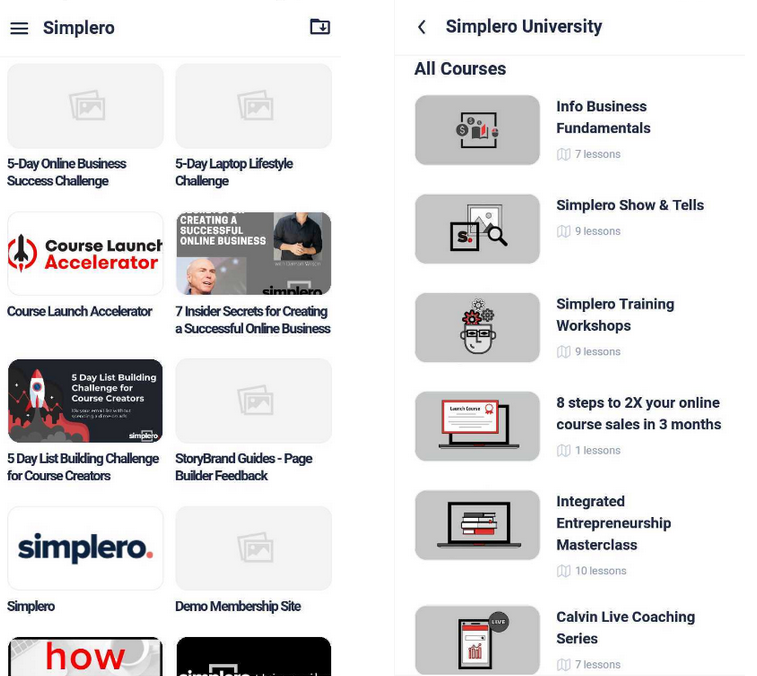 The side bar menu on each of your sites, allow users to navigate to other pages of the site, in addition to their courses.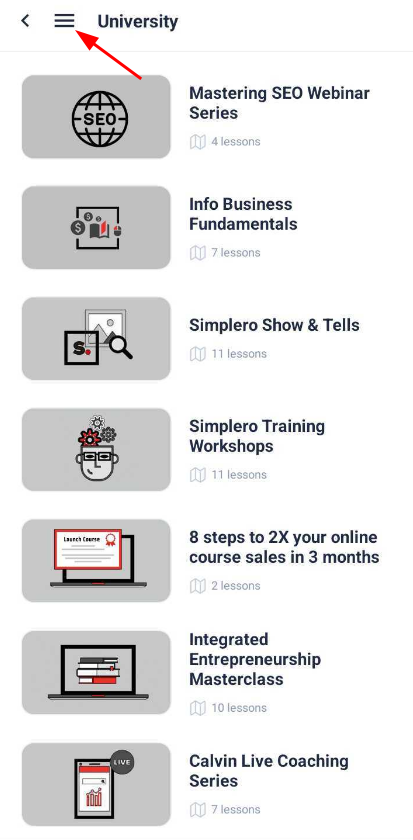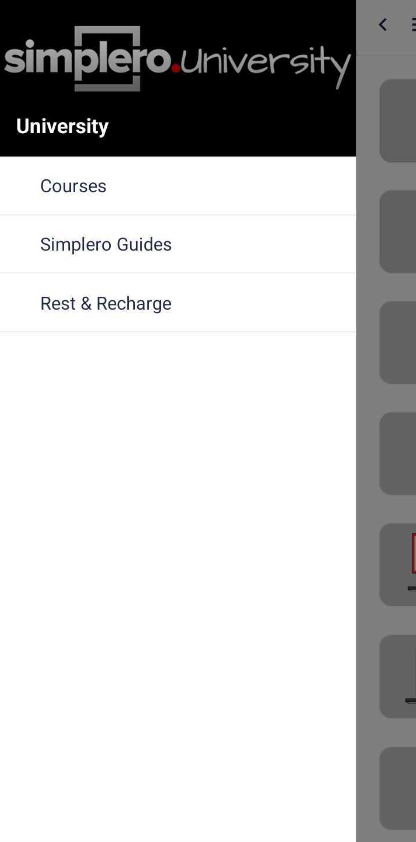 We currently only show pages that are on the site navigation.
Lessons and Quizzes

Download the course or individual lessons to have them available on your Simplero App while offline using the top right 'download' icon.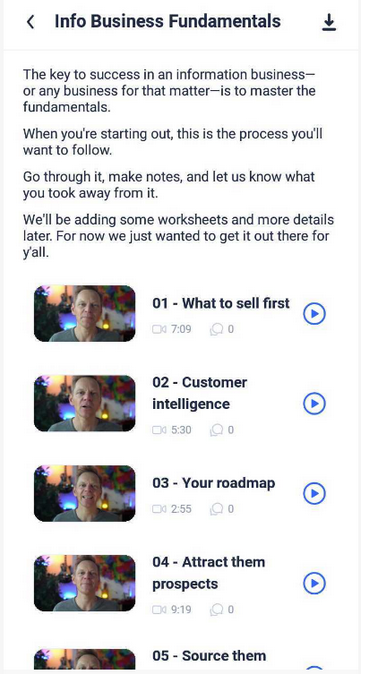 Mark lessons as complete and check the comments added to the lesson, then navigate to the next lesson using the arrow icons at the bottom.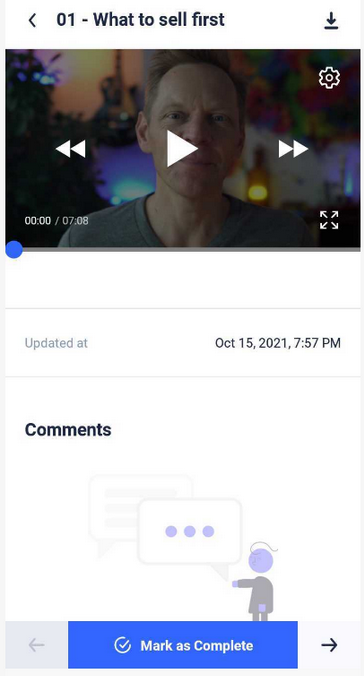 Have any quizzes? Submit your answers and get an immediate verification check!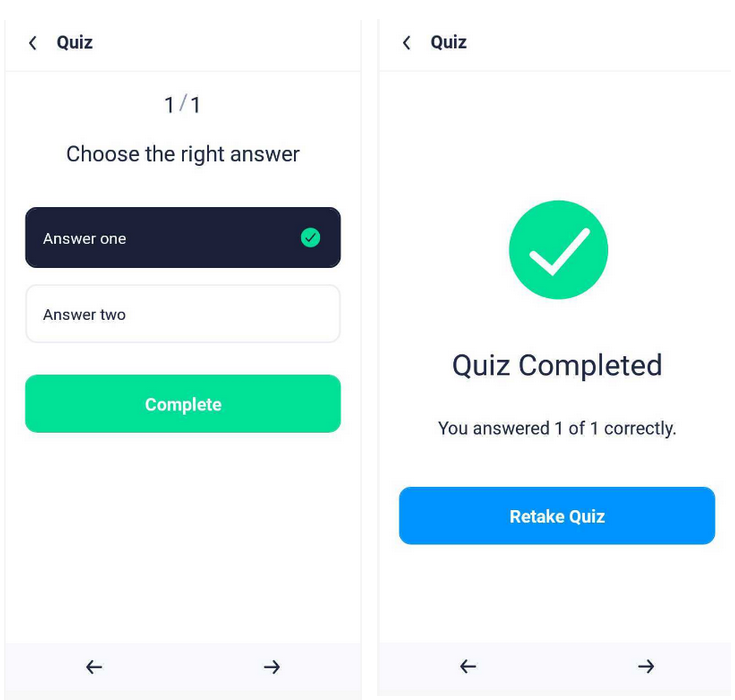 App Settings and Download Folder
From the Home Screen, you can find the Settings and Download folder on the top bar.

Settings

In Settings you can change the theme to dark mode and adjust the video download quality, and logout.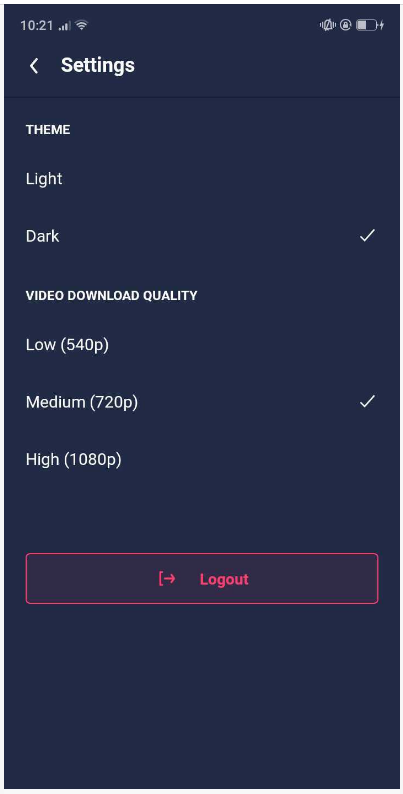 If you'd like to Logout, find the option at the bottom of the Settings view ⬆️
Download Folder

Access the downloaded courses from the Store Home page.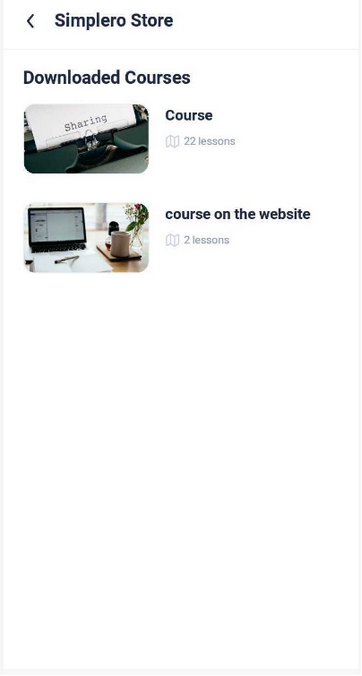 Note: this is V1.0 of Simplero's App. 

Limitations
Currently, you won't be able to edit comments/posts posted on the mobile app from the web and vice-versa.

Visiting a page on the app is the same as visiting the URL from a browser, so if you have set any global triggers, they will fire.

For things that are natively implemented in the app though (e.g courses), if you've got a trigger that's fired when the course URL is visited, then that one won't be fired.

Same applies to embedded content through the lesson source. It will show up on site pages but it might not on course lessons through the App.