Media Files
Simplero strives to support all types of media files. Try it and see! However, if you're considering using something really unusual, do a test upload to make sure it works.
Contact our customer support team with any questions or media file issues.
Uploading Media Files
Select Content from your Simplero Dashboard

Select the Media files tab

Click the blue Upload... button in the upper right corner





Browse your computer for your media file, select it, and click the Open button





Do not close your browser until the upload is complete or it will fail

Video versioning
You can replace an existing version of a video using the top right button 'Replace...'

Upload the file from your local device

The new version will show as uploading at the top
Once the new version has been uploaded, it can take up to 30 minutes to be fully replaced.
All versions uploaded will be shown on the right side-bar where you can switch from one to another.
Use 'Revert original' to blast all revisions and revert to the original file version.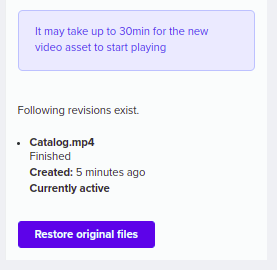 Find in your account settings the option to remove versions after a week of being added.

Captions and Subtitles
If you use captions and subtitles in your videos, you can now turn them on in your Account Settings >> Accessibility. Otherwise, they will be off by default.

Last updated 28 Apr 2022.