Current Lesson
Course Content
Basic Events
Do you have an incredible event coming up? Wouldn't it be great if you could give your contacts a way to easily add your events to their calendars? With the new Simplero feature, Basic Events, you can! Read on to see how simple it is.

Pro Tip: Be sure to check out our Mastering Events in Simplero Workshop where Kristina and Olivia do a deep-dive into setting up events in Simplero.
Create a Basic Event
1. Click on Events from the Content dropdown. 
2. Click on the Create a basic event button on the far right.  

3. Fill in the event details and select the Create event button.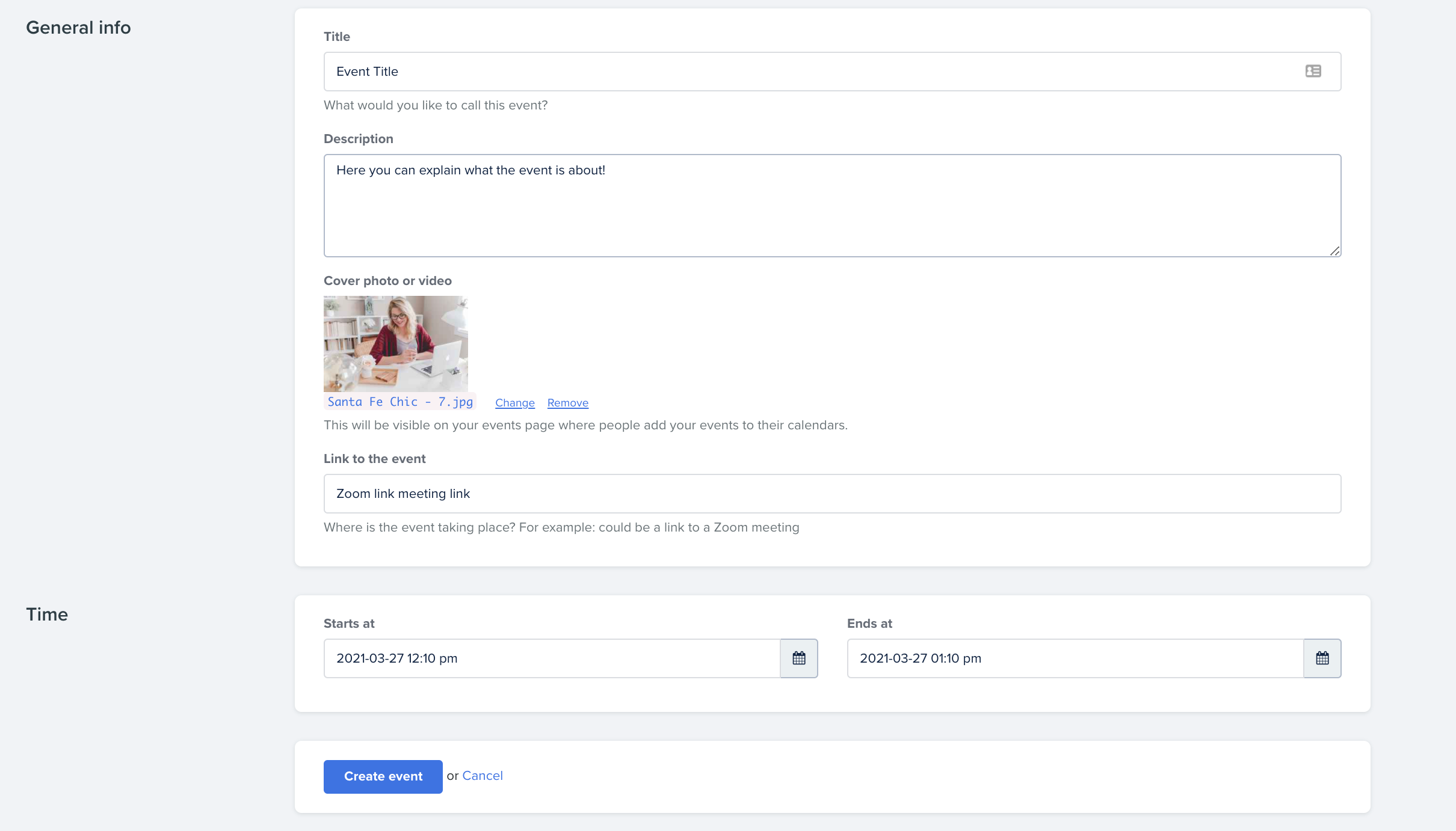 Manage a Basic Event
You can update the details of an event at any time on the newly created admin page:

There are two additional buttons displayed on the top right corner now:
Join URL: Link to the URL where the event will take place. 

View Event page: Link to a newly generated page (like below) that contains the event info and the option to add the event to different calendars. This is the link to share with your contacts.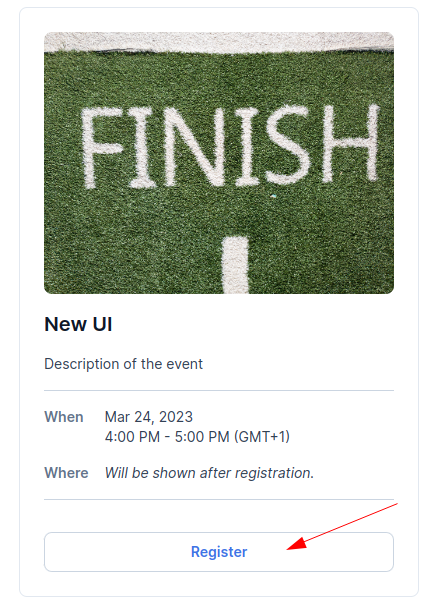 Recurring Events
On the Event Edit tab scroll down to Recurring Settings, then click on 'Recurring' to see all the occurrence options underneath:


1. When do you want this event to repeat:

Daily

Weekly (fe: on Tuesdays)

Monthly

At a specific time of the month (fe: the third of every month)

At a specific day of the week (fe: every Tuesday of the second week of the month)

2. Repeat Interval: the minimum time required before the pattern can be repeated. Generally stays on 1 unless you would like to set up gaps between repetitions.

Event will finish by

After a count of occurrences (fe: 2 repetitions)

On a specific date (fe: Jan, 1st 2023)
Example: set up a recurring event that repeats weekly every second Tuesday until April 1st: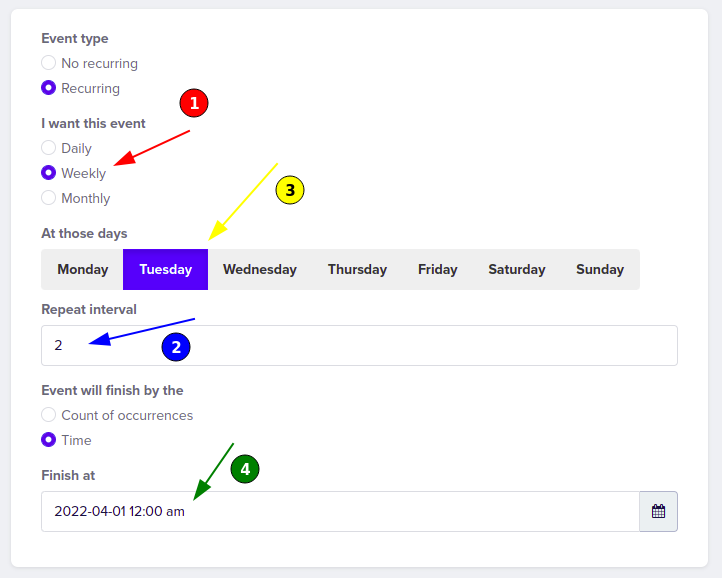 Now in Beta
Request registration to basic events: Automatic and Manual approval can be set up on the Registration section in the Event settings.

Automatic registration
The Register button will now be visible on the Event page for your members to register for the event.
They'll see the confirmation right away and the option to cancel the registration if they change their mind or cannot make it: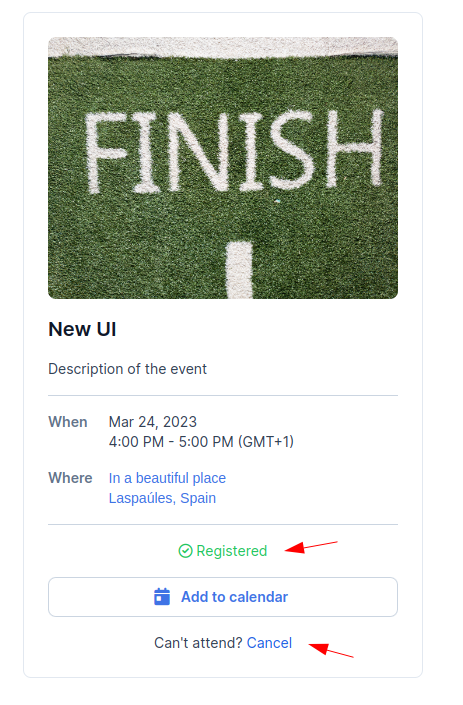 The participant will now show as Approved on your dashboard where you can also cancel the registration manually if needed:

Manual registration
In this case, the participant will see their registration as Pending as soon as they Register to the event.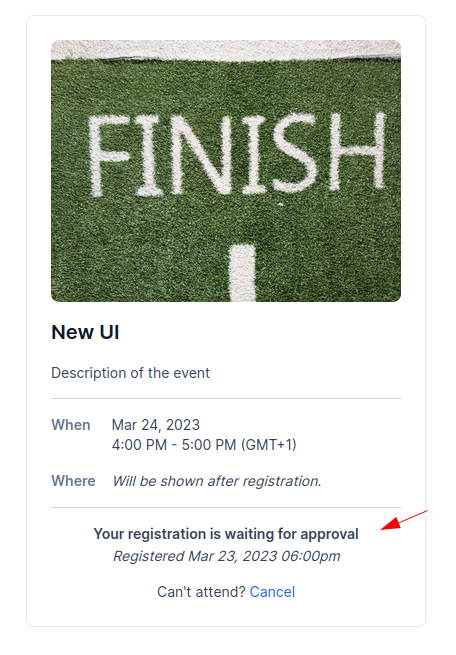 The participant will now show on your dashboard with the options to approve of deny registration:

There are also a few triggers that have been added alongside with this new feature:
While in Beta, we are taking feedback and improvement requests to make it work best for you! Don't hesitate to let our Support team know!
Last updated 23 Mar 2023.