Do you have an existing blog on a Wordpress site that you want to move over? Follow the steps below for an easy move.
Export your Wordpress Blog
Sign into your existing WordPress blog, and go to the "Dashboard"
Scroll down to the "Tools" menu on the left hand side, near the bottom of the dashboard.
Choose the "Export" box from the list of options.
Choose the amount of content you want to export. Generally you would choose All content. Click "Download Export File" this will create an "XML" file of your entire blog on your computer.
Import to your Simplero site
1. In the side menu choose Site, then Select Blog.

2. If you have not already added any blogs you will see a white button that reads "Import from a Wordpress Blog"
2a. If you have already created a blog at the bottom of the list of blogs in blue you will see a link that reads "Import from a Wordpress blog"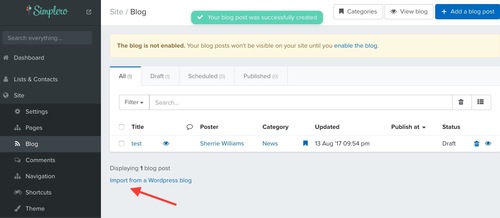 3. No matter which option you choose a screen will pop up where you can select the file you downloaded above.

4. Then hit the blue button "Upload and Import". The post, images, and comments will be uploaded along with the categories. You can delete or rename categories after the import has completed.