Sites
In the Site section of Simplero, you can build a full-featured website, including a blog.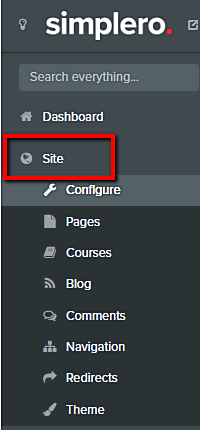 The public site is built around themes. Themes give you a lot more flexibility in what you can customize about the look and feel of your site.
Not only that, but you can browse around your site while adjusting how things look in the new theme customizer – pretty neat, right?
You can also edit all of the HTML, CSS, and JavaScript that powers the theme, so you can truly make it your own.
Editing your site
Should you want to edit the public site from what you see in the preview, you can follow our guides in each area to customize it to your desires. 
Have a custom domain? You can direct visitors there to your Simplero site. See How.