Current Lesson
Course Content
WebinarJam
WebinarJam no longer supports their old version and as of July 15, 2018, has discontinued customer access to it. 
Please see the Simplero guide for the 2017 version of WebinarJam here
Integrating with WebinarJam (Old Version)
WebinarJam is a popular webinar hosting application, that makes it easy to set up and run webinars. Simplero supports a simple integration, that allows you to include auto-registration links in your emails to your contacts, so people can register for your WebinarJam webinars with one click and without having to fill in their contact information all over again.


Setting up the Integration with WebinarJam
To set up integration with WebinarJam, first, you need to collect two pieces of information from WebinarJam (your member ID and API key) for us to be able to talk to your account. Follow the steps below:
Log in to your WebinarJam account
Under "My webinars", choose to Edit any one of your webinars. The information we need is the same for all webinars, but you must have at least one webinar set up in order to get the information.
Go to the "Integrations" step:
To the right of "API custom integrations" click the Pencil icon. This will reveal the following information:
Keep the "MEMBERID" and "API KEY" values on hand for setting up the integration.
Now, go to your Simplero account and follow these steps:
Select Settings from your Simplero Dashboard
Select the Integrations tab
Find WebinarJam in the Available integrations list and click the Add WebinarJam integration button
Fill in the Member ID and API key from WebinarJam and click the Add integration button to save
Your integration is now set up.


Adding Auto-registration Links to Emails
When editing an email after setting up the WebinarJam integration, choose Insert and select the WebinarJam auto-registration link option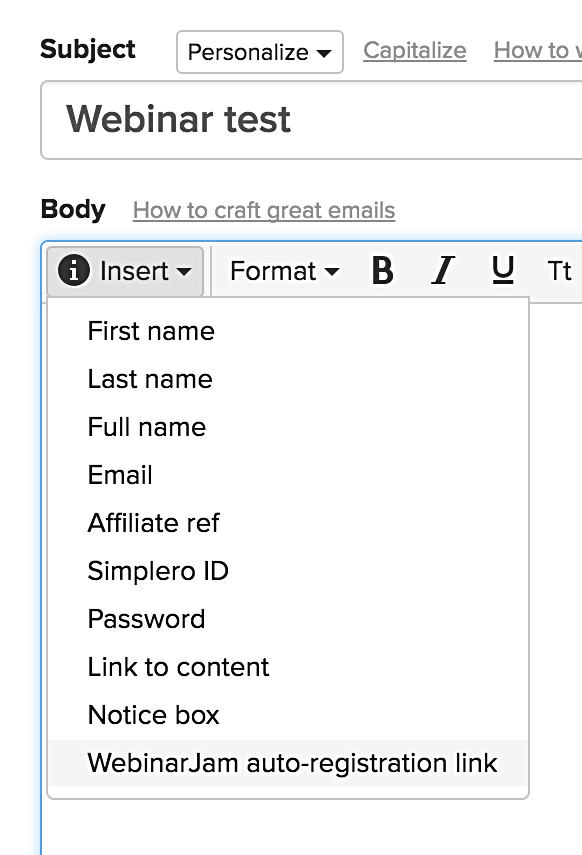 In the resulting modal, you can now choose between any of your upcoming webinars:

Note that only webinars that have been scheduled sometime in the future will be listed. Past webinars will not. If you don't see your webinar in the list, make sure you have a schedule set up in WebinarJam.
When you've found the webinar you want people to be able to register for, click "Insert link" and a link will be inserted into the email with the name, date and time prefilled by default. Feel free to change the title of the link it's the URL that's important.
Last updated 3 Dec 2018.