Auto-publishing pages in Spaces AKA Dripping Content (deprecated)
Auto-publishing pages in a space is designed for the situation when you want people to have access to the given content at different times. It's what lets you do evergreen products and drip-content, where a module is released each week following purchase, regardless of when they chose to purchase. Or allow you to use the same space over and over again for different groups/classes going through the same course. For this reason, they're optimized for use with Auto-Responses and Automations, which are also designed for things happening at different times for different people.
Dripping Content in Spaces
Each page inside a space can be automatically dripped out over time. Here's how to do it.
Set the page's publish status to to Auto-Publish:

What this means is that the page is ready to go, but when a new customer first gets access to this space, they won't be able to see this page.
You have to some how give them access first either through a trigger, automation, or broadcast/email within simplero.
Releasing Using Auto-Response
Go to the product or list that gives access to this space, and create an auto-response, scheduled for x number of days after they subscribed/purchased.
At the bottom of the page below the email body box you'll have checkboxes next to each page that is set to auto-publish.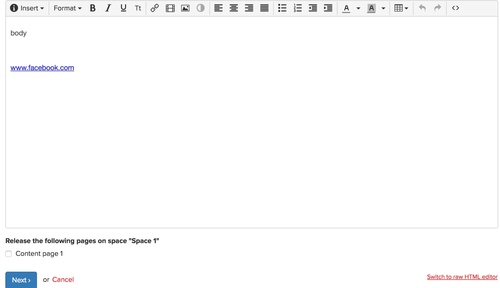 Releasing Using Broadcast
1. Create a new broadcast.
2. Choose Recipients.
IMPORTANT: Be sure to select a list or product that is giving access to this space. You cannot have additional recipients that do not have access to that same space; if you do the auto publish option won't be available. If you haven't given access to a space yet, go to the List or Product, then go to Content, under Spaces, click "add existing Space' and select the space.
3. After you've selected your recipients, go edit the email body. You'll now see a set of check boxes under the editor, where you can choose to release pages on the space.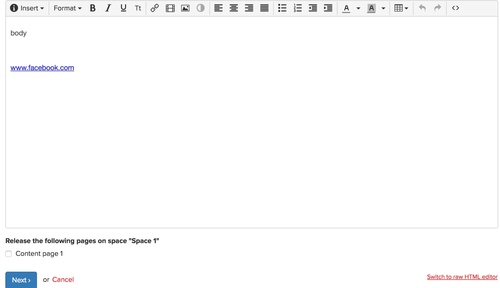 4. Check the page you want to auto-publish. This will place a link in your email with the page title. You can use that link in the broadcast, edit the text of it, or delete it. As long as the page is checked the recipients will get access.
5. Finish adding copy and send as normal.
As soon as the email goes out—whether auto-response or broadcast—the recipients will now be able to view the pages you selected.
If you want need to override the pages that any given contact has access to, find their contact page using the global search field in the navigation bar up top, then find the space in question, and you should see a link that says "Manage access". Click that, and you can choose which auto-published pages this contact has or does not have access to.
Releasing using Automations
You can also release content using automations.
Create an automation. In your action step you will choose give access to a page-- then select the page name.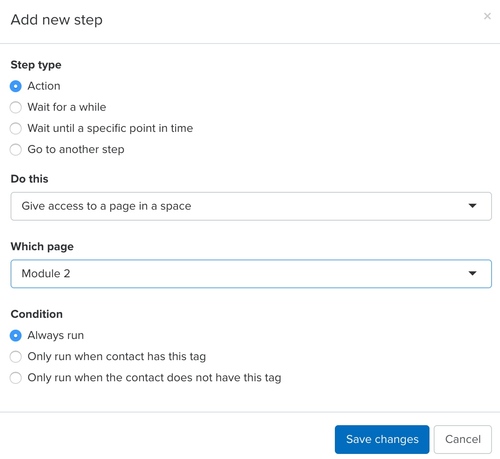 Then set up a trigger on the product or list that starts the automation when they subscribe or a new participant is activated for the first time.
Then the automation will be in charge of giving your customers access the content.
IMPORTANT: If using an automation to release access to a page within the space then the automation controls their access and not the product. Therefor when you go to the "manage access" link within the client screen in the product you will not see the page listed as viewable.
Releasing using Triggers
You can also give access to auto-published page via triggers.
Go to Content in the product or list, scroll down and add a trigger tell it to give access to a page in the space and then lists the page.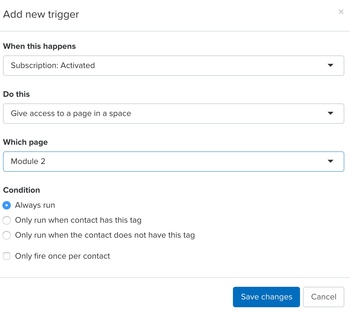 Releasing through a segment
You can also give access to a page to people across more then one product or list and without sending an email. To do this create a segment and include all the products or lists of contacts you want to give the page to. Then at the top of your segment and select perform an action. You will then choose the action to give access to a page in the space, and select the page just like you did in a trigger or automation.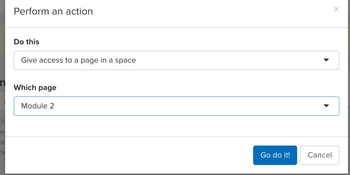 For more on access control within a space in general, read this.