Confirmation page
When a worksheet is submitted you have two options of what your customers see. Option 1 is a Confirmation page or option 2 is to direct them to a custom URL somewhere else.
To set these up follow the steps below.
1. Open the settings of the worksheet
2. Scroll down to the After Completion section
3. Choose the option you desire.
a. If you choose option 1 as a confirmation page in Simplero then you will need to add your text in the boxes below the options.
b. If you choose to direct them to a URL then paste the URL in the space provided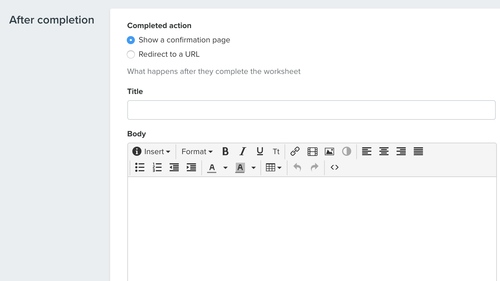 What if you want to give them further information or send them a confirmation email?
You can set up a trigger that will send them a templated email upon submission.
1. Create your email in the email library
2. Go to your worksheet
3. Click on the settings button in the upper right hand corner
4. Scroll down to triggers and add a new trigger
"When response is submitted" "Send Templated Email" "Email Name"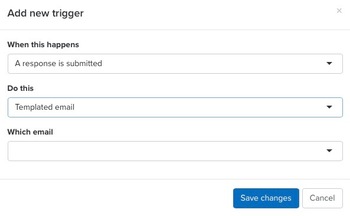 You can also use this trigger option to give them access to a page in a space if say you're doing a self paced course within a space. Or to give them access to a product if you wanted to give them a free gift after completing the worksheet. You have a full range of options via the trigger screen.