Creating a Quiz
Quizzes are a great way to help your students evaluate their progress and understanding of the course material. And now you can add a quiz directly in Simplero for them to complete before they move on from the lesson or module.
Creating your quiz is simple...
1. Go to your membership site--> courses
2. Select the course you want to add the quiz to
3. Locate the module you want to add the quiz to
4. Select the dropdown to add a new lesson/quiz and select quiz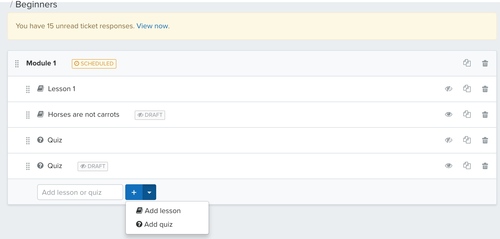 5. You will be directed to the quiz creation screen where you will give your quiz a title and start adding questions and answers. Questions are multiple choice and you check the box next to the correct answer then hit save and a field will pop up to add the next question.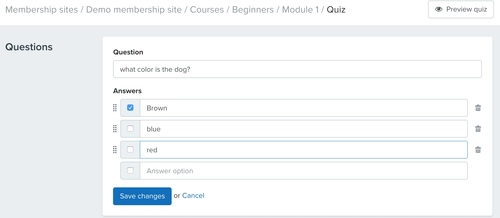 6. When you have completed entering in all the questions, you can choose the publish option at the bottom of the screen and save.
Your quiz is now live and ready for your students to take. See our guide on taking quizzes to see how it works from their view.