Courses
The courses feature in a membership site is a templated structure for creating and releasing course content. The simple module/lesson structure makes it easy for you to create your course and publish your content into a format that is user friendly.
For example say you have a course or a membership program where you release new content on a weekly basis. You could set up each weeks content as a lesson, and then format your course to be lessons only. Then your participants can click on the week they want to view. You can also load the content in advance and have it publish on it's own by using the schedule option for publishing.
Or maybe you have an evergreen course where you want to release content at different times based on when the participants signs-up. You would be able to do this simply with both the mark as complete feature and with the auto-publish feature.
Each course is broken down into modules and the modules are broken into lessons which is where your course content will live. Lessons generally have a primary video followed by some written copy. You can then add additional videos, audio files, PDFs, basically anything file that exists in your media library.
You can also link worksheets from your content tab to a lesson. Here is our step by step by guide on worksheets
And when you are all done courses allows you to create and add quizzes to help students evaluate the information the have retained. Here is our step by step guide for creating quizzes in your course
Publishing Options
Publishing of the Course
In the configure settings you will find Course Access which will control the overall course. Allowing you to connect multiple products to a membership site, but limit which of those products can view the courses within the site.

Published: Means viewable all the time. You can further control this by selecting "Only available to customers who purchased the following products" and select the product you want to view the course.
Scheduled: Means the course becomes viewable to anyone who has access to the membership site on a specific date. and again you can further control this by selecting "Only available to customers who purchased the following products" and select the product you want to view the course.
Auto-Published: Means that you control when someone who has access to the site gets access to the course via trigger, automation, broadcast, or autoresponder. See our guide on auto-publishing to learn more.
Publishing of a Module or a Lesson
Once you have set the publish options for the course overall your next step is to set the publishing options for your modules and lessons. The Module controls when the lesson(s) is viewable in the course such as viewable always, autopublished, or scheduled viewing. But you can also further control the access of lessons. Just know that if the course participants haven't been given access to the module they will not have access to the lesson no matter what you have set the access to be.
Module/Lessons
Module 1 will be ready for you when you create a course. The Module name will be the title but it is not a page in the course. You will need to add a lesson to the module.
Adding a Lesson
1. Select the lesson name
2. The edit screen will open and you will add a title, body/course text, and relevant media media files.
3. Once all is ready set it to publish and save changes.
Repeat this for each Lesson in your Module.
Adding a new module
1. In the Courses tab in your membership site select "Add a Module" in the upper left hand corner
2. Fill out pop up screen with title, description, and set your publishing options*.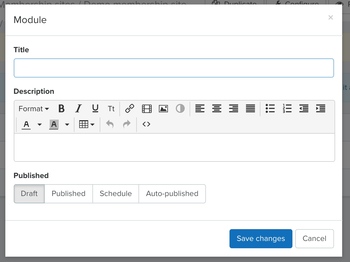 3. Save your changes
4. Add your lessons to the module
*Note that Scheduled allows you to choose a specific date when that module will appear as published to everyone who has access to a site.
Auto-published allows you to control who can view that page via a trigger, automation, or broadcast
Published makes the page viewable by anyone who has access to the membership site, or you can control it further by selecting specific products from the list.
Organizing your courses on the Membership site
If you want to display your courses on the membership site in a different way than just in the top menu, here's how to do it.