Membership Site Navigation
Create a New Navigation List
1. In the left side bar select Site then Navigation
2. Select the white "+Create new list" button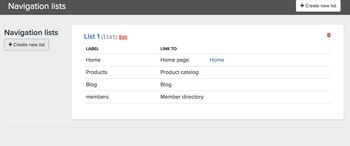 3. Give your list a name and handle. The handle is important as it is a key used to refer to this navigation list from within your theme.
4. Then begin adding the links you want by selecting the "+ add link" button.
5. Type in a label and then select the page from the dropdown.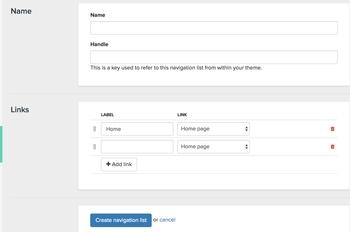 6. Repeat steps 4-5 until all pages are added.
7. Select the blue Create navigation list button at the bottom of the page.
Using a Navigation List
To use the navigation list you have created, you will need to go in and edit your theme. Then in the footer section you will be able to add and select your navigation list.
Editing a navigation list
To edit a list locate the list in your navigation screen, you'll be taken into the creation screen and from there you can add new links, change the list name, label names, or remove a label by selecting the red trashcan to the right of the label you want to remove.
Deleting a navigation list
Locate the list you want to delete. To the right of the list name you will see a red trashcan to select. Confirm your desire to remove the list.