Which page should you pick?
Each of these pages have different options and uses. So let's look at each one closer.
Pages- Allows you to design a web page within your membership site. This could be a simple content page such as a welcome page, it could include testimonials of people who have taken the course before or a letter from you. It could even include a course catalog so your customers can quickly get to the page they want to access. You can also use the pages feature to create a sales page to up-sell members to other products that exist within this membership site or outside it.
Blog/Forum- Here is where you would give access to the blog or forum that you have been working on in the back end of your membership site
Member directory- Here is where you can let members see eachother. Members are anyone who has access to the membership site for any reason.
External Link- this is a grat way to link to out outside sales page, a facebook group, a scheduling calendar. Basically anything you can find on the interweb that isn't created within your membership site.
Terms and Conditions- This will link to the terms and conditions set up in your account settings
Customer Service- When this is added a link will exist in the heading menu that will allow the members of your membership site to email you at the email address you set in your account settings for support.
Once you have decided on the page you want to add below are step by step instructions for managing that page.
Adding a page
1. Select the site section in your left sidebar
2. Select pages option
3. Click the Add a page button in the upper right of the left side bar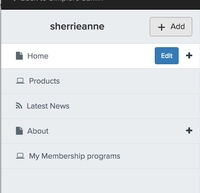 4. Choose your page option
5. Complete form and select the Add page button in the pop up box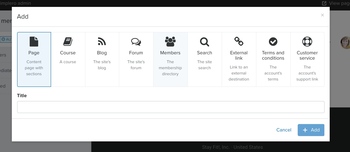 To add a subpage you would select the + sign next to what will be the mother page and then follow these same steps.
Editing an Exisiting Page
1. Select the site section in your left sidebar
2. Select pages option
3. Click the blue edit button next to the page you want to edit.
4. You will be redirected to the sections edit screen, Here you can move the sections around, Add or delete sections. or edit the contents in them.
5. You can switch to the setting section at the top of the left side bar. Here you can change the page name, URL, and publish status.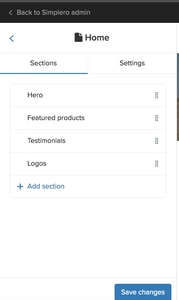 Removing a page
1. Select the site section in your left sidebar
2. Select pages option
3. Select the edit button next to the page you want to remove
4. Towards the bottom of the left sidebar you'll see red link that reads "Remove Link"
5. Confirm your request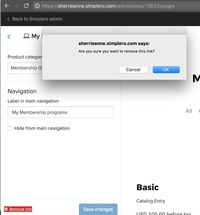 What if I want to limit who can view a page?
Pages in a space are published in 3 different ways. Published meaning viewable all the time. Scheduled meaning they become viewable at a specific point in time, or auto-published meaning you manually give access to someone.
The auto-publish works great if you want to have a page in a membership site that is only viewable by a select group of people. For example, maybe I host the same course each year, and each group of participants has their own group page on facebook for daily interactions. I can add the facebook group as an external link page and then set that page to be auto-published. I would then auto-publish it to that group of participants and no one else via a trigger or broadcast.