Contact Clean-up (Removing Inactive Subscribers)
Manual Select of indviduals
If you want to manually select the individuals you want to remove from a list, follow the steps below.
1. Go to Lists --> Contacts in your Left side menu
2. Select the check box next to the individual(s) name(s) that you want to remove
3. Select the drop down that appears at the top for actions and choose delete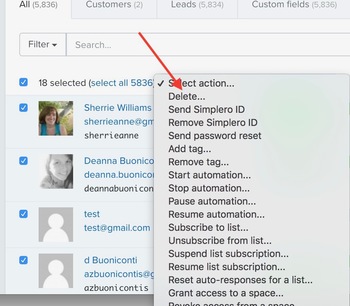 Contact Clean-up
To clean up your inactive contacts completely (without doing it by individual contact) you will follow the steps below. These Steps will only delete contacts in your system who have no connection to anything in your simplero except tagged. So you may want to first go through your lists and unsubscribe inactive users, and remove their access to spaces/content. To do that follow this guide.
1. Go to Lists --> contacts in your left side menu
2. In the upper right hand corner select the cleanup button
3. Select the yellow button to remove tags
4. Select the red button to delete the inactive contacts.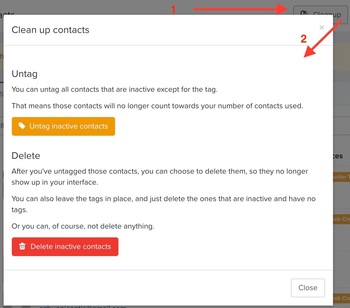 Note:This will reduce the number of contacts in your Simplero that goes against your allowed limit.