When importing a list from another server
Import your list before turning on Autoresponders or adding a trigger to start an automation this way previous subscribers do not receive the welcome sequence a second time.
You may also want to check what kind of information you have in the CSV file exported from your old program. Any information that you want to import to Simplero, you will have the option to select at the start of your import process. Each column in the CSV file will give you the option, whether it should be imported or discarded, and what it should be imported.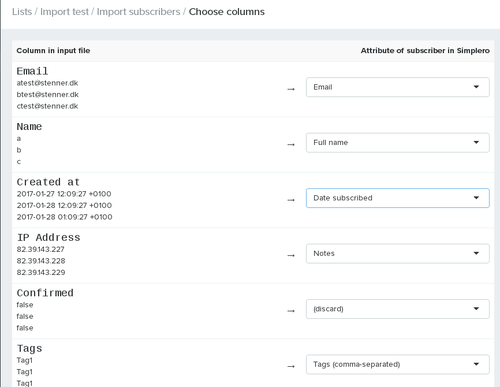 Also note that If the "Skip Confirmation" box is left unchecked, those being imported, will receive an automatic email with the confirmation email process at the start of the import.
House List
Most businesses will want to have one main email list that they send regular newsletters to. In Simplero, this will be the list marked with a little house next to it. The house list, we call it affectionately.

 Of course, if you have multiple distinct audiences, you might have several main lists.
Additional or Sub Lists
Create sublists for events, webinars, or opt-ins. You will start want to add those subscribers to your main list so they receive access to your regular emails and newsletters.
For campaigns, typically you'll want to wait until the campaign is over before you add them to your main list. In that case, when the campaign's over, go to your main list, click Add Subscribers, From a list or product, and then choose the sublist to copy from.


For evergreen funnels or special offers, you'll typically want to add them to your main list right away. In this case, the easiest way is just to set up a trigger on the sublist that also adds them to the main list.
When You're Done With a Sublist
 just click the little star next to the list on the overview, and we'll hide it from then on. It's not too hard to find, but at least it won't clutter up your main list screen anymore.