The Deliveries tab under communication is a comprehensive list of all emails that have been sent via your Simplero whether it is through an auto-response, automation, or stand alone broadcast.
This page uses our filter/search functionality allowing you to narrow down what you are looking for.
You not only can search by email name, the contact, date of delivery. But you can also search by activity connected to the email. Activity options include: Sent, Delivered, deferred, dropped, opened, clicked, bounced, spam reported, and unsubscribe.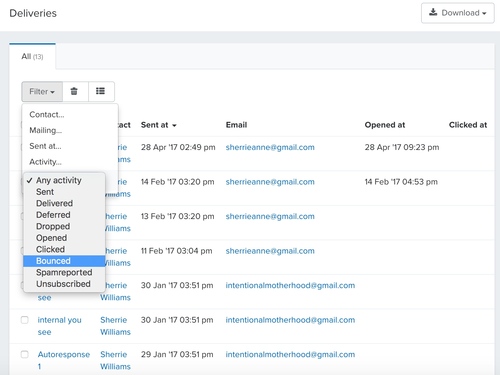 This tab is a great help if you are wondering if a specific email has gone to a specific contact, rather then searching for the contact and scrolling through the list of email activity for their account you can now come right here, search their name and see everything.
How is Simplero's Deliverability
It's really hard to get good comparative data on that, but what I know is that we have very good deliverability.
We work with a leading email deliverability provider, SendGrid, and we have a very high reputation score with them (99%+), which means we're in great standing with respect to the different mail providers that your email is going to end up with, which means there's a very high probability that your mails will go through. And we work hard to keep it that way.
What Is the Spam Check on Emails?
We run your email through SpamAssassin, a very popular spam ranking software, to check for known spam email red flags.
It's mostly informational, to help you stay clear of things that are going to trigger spam filters based on SpamAssassin, although if you have an exceptionally high spam score, we will refuse to send your email.
It is not a reflection of how many people reported your email as spam, it's only about how your email is being ranked by the SpamAssassin software.