Taxes on multiple currency products
Are you offering multiple currencies and unsure how tax will be charged?
You will set up your price as normal selecting the currency for each price option. see our guide on multiple currencies if you have questions.
Then you will want to go to your Tax settings in your admin...
Settings--> Taxes in the Left side bar
At the top of the page select the correct strategy. If you use the Simple tax option highlighted here Simplero will determine the tax based on your client's location. So if they are in the US it will charge the US currency and tax if they are in Cananda it will charge the Canadian dollar and tax rate.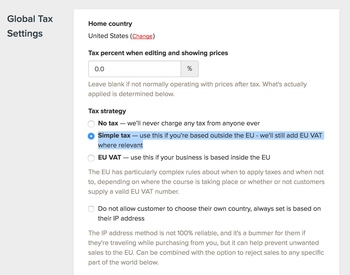 If you are unsure what tax rate is being charged you can scroll to the bottom and see a listing of all countries and tax rates and even add a new one if needed.