Freebie Content (Giving Opt-in content to a list)
Freebie content is a great way to not only get new leads added to your newsletter, it is a great way to start building a relationship with them that positions you as an expert. This type of content is often called a lead magnet because it does just that- draws in leads.
So how do we do that in Simplero?
Well first you need to create the lead magnet. Here's a few tips to help you get it created..
Because this is content that you are giving away for free it shouldn't be all your hard work, but rather a preview or smaller version of a product you already sell. Some suggestions a PDF based on an E-book. A trailer of an MP4 you sell. Or a Preview of an exisiting membership site or space with only some content accessible.
The lead magnet should solve a specific and single problem your potential customer has, this is what will position you as the expert.
It should reflect your brand and have a consistent message with your other offerings.
Setting up the opt-in and lead magnet
1. Open up or create a new List
2. Select the Content Tab
Here you can either load an E-product such as a PDF or audio files. You can also connect the list to a Space or membership site giving you the ability to give them a Preview of one of courses or membership programs.
3. Create your sign-up form
You are now ready to start sharing the opt-in form and building a relationship with leads. But don't forget to nurture that relationship! You may want to consider to linking this same list to a sales funnel so that you can further build that relationship; or at minimum add in an auto responder that offers them the full price product you based your lead magnet on. You might even want to consider adding your opt-in to live on your Simplero site giving people access to it all the time.
What happens when someone subscribes to the list?
The subscriber will complete the opt-in form and then when they hit submit they will be redirected to the thank you page that will have the E-product right there for them.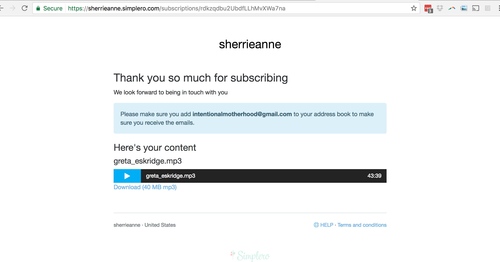 If you have a double opt-in set up when they confirm their subscription they will also be redirect to that same page.
Additionally you can give them the link to their content within an auto-responder by selecting the "insert" drop down and then selecting "Link to content."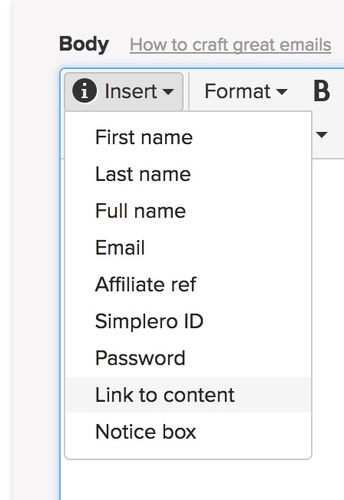 Note: That if your giving a customer a downloadable E-product it is best to send them an autorespnder with the link to content in case they don't download it upon registering.
You may even want to add a note on your confirmation page and/or in the email that let's them know to save that URL/email for future should they need to download the content. Of course they will be able to access it again from the Simplero account page if they have a user ID and Password otherwise it's a bit tricker.