Auto-publishing a page in a Broadcast
Auto-publishing a page with a broadcast
1. Create a new broadcast.
2. Choose Recipients.
IMPORTANT: Be sure to select a list or product that is giving access to this space. You cannot have additional recipients that do not have access to that same space; if you do the auto publish option won't be available. If you haven't given access to a site/space yet, go to the List or Product, then go to Content, under Site or spaces, click "add existing site/space' and select the site/space.
3. After you've selected your recipients, go edit the email body. You'll now see a set of check boxes under the editor, where you can choose to release pages on the space.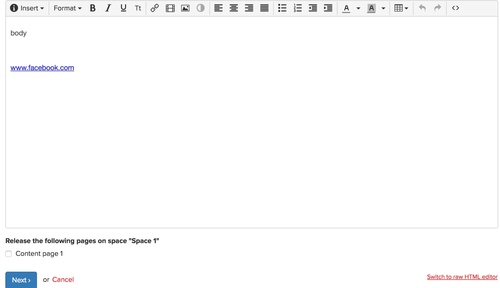 4. Check the page you want to auto-publish. This will place a link in your email with the page title. You can use that link in the broadcast, edit the text of it, or delete it. As long as the page is checked the recipients will get access.
5. Finish adding copy and send as normal.