Reaching a Customer in their Time Zone
There is 1 place in Simplero where you can action something to a customer based on their time zone... In an automation. Generally you would want to do this if your contacts are in a different time zone as you, and you want them to receive an email during their business hours and not the middle of the night which might be your business hours. Below are the instructions to help you send the email based on their time zone.
Sending an email via an automation based on contact time zone
1. Create your broadcast as normal in your email library
3. Your automation will have at least 2 steps..
3a. Wait step- In this step choose the option to wait for a period of time. insert the time frame of when you want the email to go out once the contact has been added to the automation and then Where it says in whose time zone select "Contact"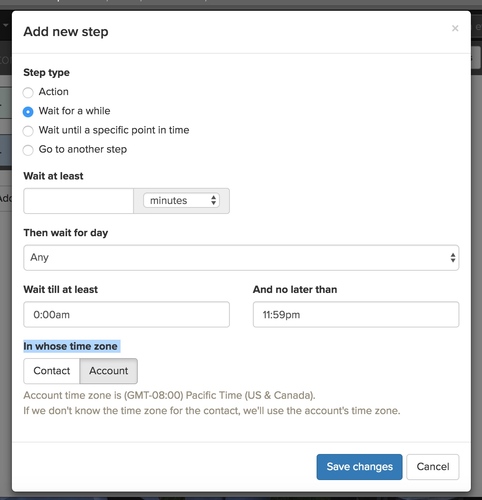 3b. Send templated email- Choose the email from your email library that you created.
4. Add any other steps you desire to your automation
5. Save automation
6. Start contacts in automation as you would normally. (see guide for questions on starting contacts in automation)
If you want to send a one time broadcast to your contacts but you want it in your time zone. Follow the above steps skipping #4. and in 3a just 1 minute in the wait at least field. Create a segment of who you want that one time email to go to. Perform an action to that segment and choose Start Automation as your action.