Using Automations for sales funnels
Sales Funnels and Why you need them
Sales funnels are essential for building a relationship with your leads.
Generally speaking, most customers are not going to pop on your website for the first time and buy from you, especially a big ticket item. No they need to get to know you, they need to see why you are the expert in your field and how you are different and better than your competitors. They need to see their need and how you can fill it.
Building this kind of relationship with a lead is generally done through the creation of a sales funnel. A sales funnel is a series of emails that takes a lead from their first introduction to your business to different products with increasing price points.
A well developed sales funnel will not only help your leads get to know you but will help them learn about your products and services, and it will set you up as an expert in their minds.
The reality is this kind of rapport building can take time, and you don't have time to send individual personalized emails to every lead that comes your way. That is where building an automation comes into play.
Simplero's automation feature allows you to set up the personalized emails to go out automatically on your desired schedule so that each lead receives the same experience and builds a relationship with you, without you having to lift a finger.
In this video we show you how to set up a basic sales funnel using an initial automation and then breaking it into 2 different groups and moving them through your sales process. The process in the video can be used as many times as needed, allowing you to create endless channels to navigate your list through an automated sales process.
Before you begin
Before you begin creating your sales funnels in Simplero you'll want to start by mapping out the process. A few questions to start with..
1. How are they going to enter your funnel. This might be through a specific list or through your newsletter.
1A. Are you giving them content an opt-in of some kind.
2. Where are they going next? Are they moving directly to the sales of a specific product, a webinar, or through a series of emails associated to the opt-in?
Now you can begin to map out the automation.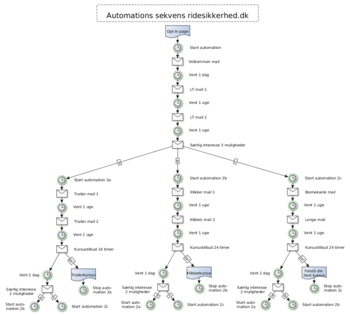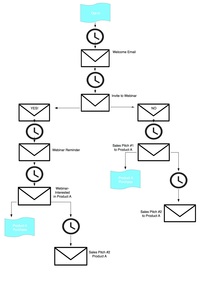 Setting up the Sales Funnel
Once you have mapped out your sales funnel and you know how many automations you have, lists you might need, and how your leads will move through the process you are going to begin the set-up process.
1. Set up any lists you will need
2. Add all emails into your email library
3. Set up your automations
4. Once you have the bare bones set-up you will want to make sure to go back in add the links for either Auto-subscribe or Auto-start automation into any emails that are used to move people through the sales funnel.
5. Add any needed triggers to any product you are selling in a sales funnel to stop the sales automation when someone purchases as you don't want to continue to sell them emails about it.
Best Practices
When running a webinar as part of your funnel..
Want to make your sales funnel more evergreen? Consider prerecording any webinars involved and setting them up on a landing page which you link to instead of running a live webinar on a regular basis for people to watch.
Other Tips...
1. Consider pausing your leads newsletter subscription while in your sales funnel so that you are not overwhelming them. You can do this by adding an action step at the beginning of the first automation to pause subscription and then a second trigger at the end of the last automation to resume the subscription.