Viewing Worksheet Responses
Viewing individual responses to a worksheet
1. In your left sidebar select content then worksheets
2. Locate the worksheet you want to view
3. To the right of the name select the number icon (two spots over from worksheet name under responses)

4. You will now see a list of everyone who has completed your worksheet.
5. Click on each person's name and you will be able to see the question followed by the answer.
Viewing all responses to a worksheet at one time
1. In your left sidebar select content then worksheets
2. Locate the worksheet you want to view
3. To the right of the name select the number icon (two spots over from worksheet name under responses)

You will be redirected to a page that lists everyone who has responded.
4. In the upper right hand corner select the download icon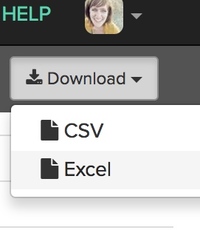 choose the file type you want to download.
Questions will be your header and the responses will be in the cells below, witch each respondent on a separate line.