Seeing what your Customer Sees
From time to time your customer may be in contact with you wanting to know how to update the subscription to their list, manage their payment information, or update their profile information.
While they have access to these things from their account admin screen and we have guides to explain how to do so. It may be necessary for you to view the page yourself or you may want to just give them a quick link to it.
1. Search for your customer in your contacts
2. Click on their name
3. From this screen in the upper right hand corner You will see their name, email address and an eye icon that says See as. If you click on see as this will take you to view their subscription page where they can resubscribe or unsubscribe to lists they have signed up on.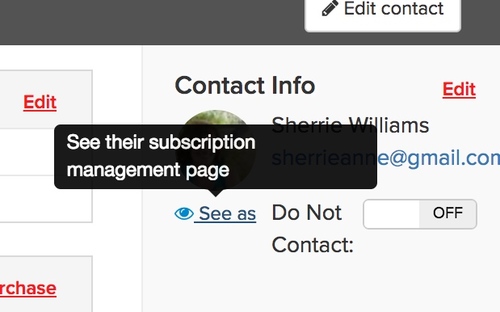 4. To view their payment screen, click on the purchase from the contact screen and click the same see as button.
You can then share the URL to the page that opens for you with your customer and they will be redirected to it.