Setting up Renewal Notices
1) Go to settings
2) Click on the Product Tab
3) Set number of days you want the system to send a warning about renewal when the last subscription period was longer than x days
4) Set the number of days before a subscription ends that you want the renewal notice to go out.
Note: At this time there is no way to edit the text of the renewal email that goes out, but here is a screen shot of that message.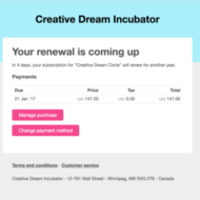 If you want to send a customized renewal notice we recommend setting up an automation as follows.
1) Step 1: Wait 1 year (or whatever the subscription time frame is)
2) Step 2: Send Templated Email (You would select the renewal email from your email library)
3) Step 3: go back to Step #1
Once the automation is set-up you will add 2 triggers in your product.
The first automation will be activated by the purchase and should perform the action of starting the automation. and then second will be activated when a purchase is canceled/deactivated and will stop the automation.
Click here to learn more about creating automations