We are excited to tell you about our latest feature, Zapier Integration!
Zapier
is a service that connects the web apps you use to easily move your data and automate tedious tasks. They have 300+ popular apps on their roster; think Gmail, Salesforce, Basecamp et al. And we are now pleased to announce that Simplero has joined that list.
Zapier operates on a "if this happens, then do this" principle. Technically, we call them triggers and actions. If trigger happens, then perform action. For example, you have a "Contact Us" form on your sales page, and you would like to add whoever submits the form to a list called "Potential Customers" in Simplero. The Zapier integration is built just for this!
Zapier also works the other way, from Simplero to other apps. e.g. When someone makes a purchase in Simplero, you would like to send them a thank you card.. Simplero + Zapier + Thankster can make it happen.
Here
is how to set up a zap....
1.Sign up with Zapier, using this link. If you are already a Zapier customer, simply login to you account.
2. Click "Make a Zap!"
3. Search for Simplero for your Trigger App
4. Choose your trigger. (New or Delete a purchase or subscription, or triggers added to a contact)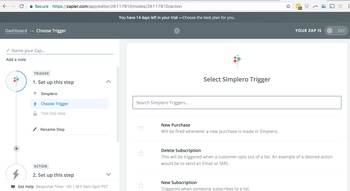 5. Save and Continue
6. Connect your Simplero Account
Switch over to your Simplero account in a new tab, go to Settings > API Keys, and create a new API key for use with Zapier. Enter "Zapier" when asked about the purpose of the API key.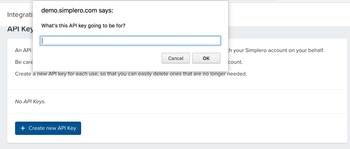 Click the clipboard under "get" and that will copy the API-key to your dashboard.
Switch back to Zapier, select he button to connect an account and paste the API-key into the field there. Then click Continue.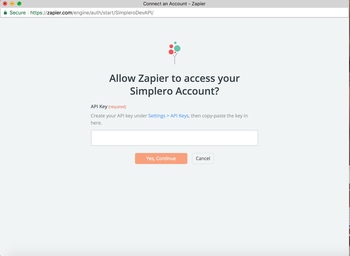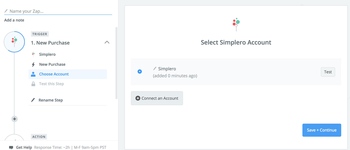 7. Test your connection (you can create a purchase by buying the freebie link)
8. When successful save and continue
9. Repeat steps 3-5 for what will happen after Trigger action in Simplero
10. Finish and name your zap
Don't forget to turn on your zap
Happy integrating!