Affiliate links with an external URL that is NOT the products sales page
1. Go to Marketing in your Left side bar
2. Select the affiliate sub tab
3. Locate the program you want to add the link to
4. Open up program
5. Locate the right side bar where it says "External affiliate links"
6. Select the red add button
7. Label it
8. Paste in external link
9. Save
This link will now appear in the list of links available to your participants
Sharing an external Link with the affiliate
When you are ready to let your affiliates know that there is an external link they can share and receive affiliate credit on it is easy to pop their link in an email broadcast.
1) Add the external link to your affiliate program
2) Simplero will mask it and you will copy that masked link which you will find by going to an affiliate within the program and you will see the link button next to the page name in their "Affiliate links for this Affiliate" Box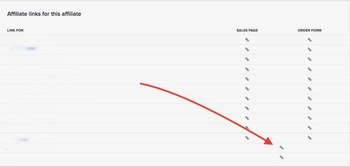 3) Simply paste this link remove the number and affiliate name and then add /{{ref}} to the end of it in your broadcast
Example:
add {{ref}} to end
http://smpl.ro/al/ReMpLgqxT4q97Fr9neRWpdpX/{{ref}}