Changing a Participants Email Address
When people mistype their email address when buying
We do everything we can to catch common typos (like gmial.com), but we can't catch everything. Sometimes people just hit the wrong keys.
The safest way to fix it is this:
First, click the name of the particpant. This takes you to the page for the Contact:


Second, click to edit the contact: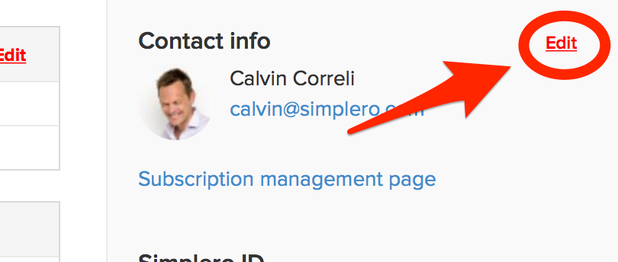 Write the new email address. Then make sure to check all the places that the email address needs to be updated at the bottom of that page:
Go back to the page for the purchase, find the participant, and remove the Simplero ID:

Also, if the switch next to "Emails:" says "OFF", which it might do if the email has bounced, switch it back to "ON".
Once that's done, you can send a new one:

Once that's done, you'll see the new Simplero ID:

In this case, it's the same, of course, but if you changed the email address, it'll be a new one.
I realize this isn't as simple as we'd like it to be, and maybe we'll come up with a good way to make it simpler in the future, but this is how you do it.
Your customers are able to update their email address themselves, here is a guide you can direct them to.