How the Trial Works
Simplero offers a 30 day trial. It allows you to explore everything in Simplero. However, there are a few restrictions, as you won't be able to:
Send emails
Take orders
Upload more than 10 MB data
Send text messages
Within these limits, you should still be able to test everything out, and get pretty much everything set up, save actually launching your business for real.
Once you're ready to launch, you activate your account under Settings > Plan and Billing.
When you activate, your 30-day billing period starts, and you're officially a Simplero customer.
We do not have a "pause" feature, or a "go back to trial" feature, so once you activate, you've activated.
We hope that you'll have a profitable business and stay with us for a very long time, like most people do, and we'll do everything we can to support you in that. Please do reach out if you need anything. We're here to serve.
Some of the features included are:
Financial scoreboard overview including:
Total contacts:
Active leads:
Unconverted leads:
Paying customers:
Lead conversion:
Average lead value:
Average customer lifetime value:
Contact over past month
Recent Broadcasts
Name, Rcpnts, Delivered Opens Clicked
Most recent bounced emails to products
And for broadcasts you get an activity overview (see picture), you can click on opens etc. to see who, and the activities can be downloaded
All your financial data can also be exported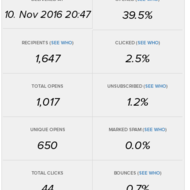 My Trial ended....
Did you log into your account to discover that your trial account ended and realize you need more time?
You can request a one time 7 day extension simply by sending us a quick message via the link on the activate page letting us know why you need more time.
What happens to my data?
Don't worry all your hard work during your trial is not lost, as of this time we don't delete the trial accounts so when you are ready to activate simply click the button and all your work will be there ready to go for you to make money.