Sending a Text Message to Customers
How Do I Send a Text Message to My Customer?
If you are looking for a way to send a text message to your customer and you want it to come from Simplero, follow these three easy steps.
Via A Trigger
Text messages can be sent to your customers via a trigger on a product, list, automation, or segment.
1) Add the trigger
2) In the Do This field select "Text Message to a Customer"
3) In the message to send box type your text message.
4) Save trigger and you are set
Via a Product
1) Go to the product you want to text
2) go to the participant screen
3) Select the "SMS participant" button in the upper right hand corner

Vie a Segement
1) Create a new list, add your customer to the list.
2) Go to Segments, click Create a Segment. Then, follow the steps in the picture below.

You don't need to select anything in the filter, it will automatically chose "active subscribers".
After you've clicked save, give it a moment to will pull the list.
3) Once the list is done "calculating", click "Perform action".
Under
Do this
select "Text Message to customer" and write your message. Don't forget to click "Go do it!"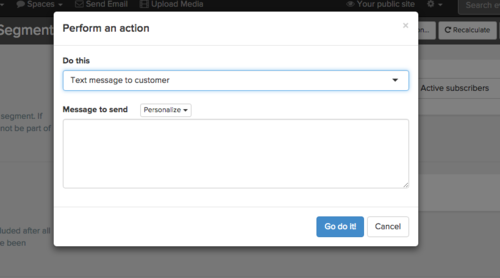 Note
Due to the way text messages work, a message longer than 153 characters, or 67 characters if special characters are used, will be broken into multiple text message segments. A message of 240 characters will therefore be sent and billed as 2 messages if no special characters are used, or 4 messages if the message contains special characters. The way messages are broken up into individual messages depend on the country and carrier.
For questions about how text messages are split see here.
Billing notes
Each sent message is billed. That means if a text is broken into 3 sent messages you are billed for 3 texts.
Some plans include a number of free text messages. To see your current usage and the number of text messages included in your plan, go to Settings > Plan and Billing. When you go over the limit of free text messages, Simplero does not stop you from sending texts. Instead, you are billed at the end of the billing cycle for the overage. The rates can be found on the text message pricing page.
Do also note, that administrator text message notifications about new purchases (set up under Settings > Product) are not counted towards your usage of text messages.