Triggers on Link Clicks
You can add a trigger to run some action when a link is clicked.
This is super useful to catch people who are interested enough in an offer to click a link about it, but may not yet have bought the program.
Simply go to your broadcast or auto-response, find the link, click Edit.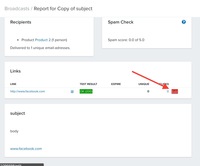 Scroll down and add a trigger that will get run when they click this link. The trigger can add a tag, notify you, add them to another list, or any of a number of other actions.